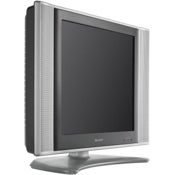 Could someone explain to me why "small screen size" is a con for a TV? Sure, I can see how it might be a downside if you're looking for a behemoth 106″ display, but what if you're actually looking for a small TV, hm?
Case in point: my grandmother has a small CRT TV in her breakfast nook. It's getting on in years, and we're talking about replacing it for Christmas. I figured that an LCD model would be perfect, since it would hopefully free up some extra space in the already crowded room, but it's surprisingly hard to find a small, compact LCD TV.
I realize that everybody's focused on getting their screens as humongous as possible so their home theater setup can totally dwarf the local cineplex, but that doesn't mean there isn't a place for smaller TVs as well. So far, I've had the best luck with Sharp's Aquos line, but even they don't make widescreen models under 20″—so when the end of analog broadcasting rolls around, those little screens will be left in the lurch.
Rather typically American, if you ask me.