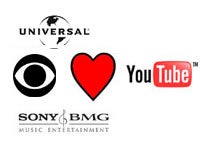 Last month, we told you that YouTube had signed a deal with Warner Music Group to not only show Warner's music videos on the site, but also to allow users to upload content with Warner music in the background. It appears that this was but a pilot fish for the Internet video portal which has today announced deals with Sony BMG, CBS, and Universal to use their video content. The last is the most surprising, as Universal had claimed not long ago that YouTube owned them mucho moolah for infringing on copyright.
The ace up YouTube's sleeve? It probably didn't hurt much that there's been serious talk about Google acquiring YouTube for an estimated $1.5 billion. Google would bring its AdSense advertising platform to the table and content providers would (as the prior deal with Warner stipulated) take a percentage of ad revenue from ads display while people watched their videos.
Google, of course, has its own Google Video site which operates similarly to YouTube; I'd expect some sort of merger down the line, though it may be a while. Still, going legit killed the appeal of Napster; can YouTube remain top dog with its shiny new image?
Update: Google's acquisition of YouTube is now official. The deal is worth $1.65 billion, and will see YouTube retain its branding, employees, and headquarters.