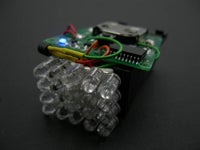 I love going out to eat, but I have a minor problem: I can't sit facing a television. Nowadays, most restaurants (or at least the ones I can afford to eat at) have at least one television, showing sporting events, news, or nature documentaries. And if there's a lapse in conversation, my eyes will naturally drift to the television over my dinner partner's shoulder. I can't help myself—the pictures move .
Of course, I could just buy myself a TV-B-Gone for turning off the offending set, but that doesn't really satisfy my inner geek. What I really need is to follow Instructables's guide for creating the Ultra TV-B-Gone (it's just so hard to resist something with the word "Ultra" in it). It couples a standard TV-B-Gone with 20 LEDs, to be absolutely sure that you will kill that TV dead .
Granted, this also probably a really good way to get myself tossed out of a lot of restaurants. But, hey, at least we'll have something to talk about.
[via Lifehacker ]