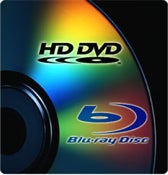 I'm not sure if I should be rechristening "Format War '06" to "Format War '07" or something more specific, like "High-Def Disc Format War." It just doesn't have the same ring to it. How about "Wars fought by big companies in which the loser in the average Consumer"?
Two companies have thrown up white flags in an attempt to quell the rising hostilities. Electronics maker LG has announced a hybrid Blu-Ray/HD DVD player that will appear at CES next week, and will be widely available in early 2007. Both LG and Samsung had toyed last year with the idea of a hybrid player, though reports went back and forth as to whether such a device would appear. The question now is its price: will it be in the range of HD DVD players (~$500), Blu-Ray players (~$1000), or perhaps somewhere in the price range of the two combined? We'll find out soon.
Meanwhile, as we reported last year (admittedly, it feels funny to say "last year" when this year is only four years old, but I digress), Time Warner will unveil their hybrid disc that would contain both Blu-Ray and HD DVD content (and, at some undefined point in the future, standard def DVD content) also at CES.
Hybrid players or hybrid discs? Sounds like we have a new format war on our hands. Can they coexist peacefully?
[via Gizmodo ]