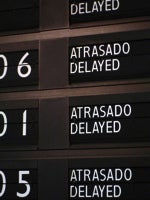 When last we spoke of the state of 802.11n ratification, the IEEE, the body in charge of approving the standard, had given thumbs down on the proposed specification, sending the teams back to the drawing board. There was supposed to be a new draft of the standard released this autumn, but that appears to have been delayed until early next year, prompting some to speculate that the final ratification wouldn't take place until early 2008. When done, the 802.11n standard should feature actual throughput of 100Mbps, which would mean a significant jump over reigning champion 802.11g.
This, of course, hasn't stopped wireless peripheral makers from jumping on the 802.11n bandwagon, though that wagon is firmly careening down a hill, at the bottom of which it will obliterate the existing 802.11b standard with its death ray-like powers. While Draft-N gear (as some manufacturers are calling) should be compatible via firmware upgrade once the final standard is released, the actual levels of interoperability seem to be quite mixed. So if you want the genuine article, be prepared to wait.
[via Slashdot ]
Note: When you purchase something after clicking links in our articles, we may earn a small commission. Read our affiliate link policy for more details.