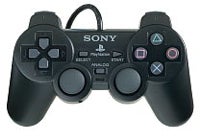 While most of the PlayStation's 3 technology surpasses its predecessor, there has been one area in which it has fallen behind: force feedback. Due to a lawsuit from a company called Immersion, Sony was unable to put rumble functionality in its PS3 controller, the SIXAXIS.
Immersion holds a patent on rumble technology; they first sued Sony for infringing that patent back in 2002. In 2004, Sony shelled out $82 million in damages to Immersion, while Microsoft took the high road and settled for a lower figure. Sony appealed, lost the appeal, and has now apparently decided to settle their differences the old fashioned way: by paying a bunch more money to Immersion.
During the ongoing litigation, Sony derided rumble functionality as old hat, touting its replacement motion sensing as the new hotness. Having now concluded the dispute, what does Sony have to say? "We look forward to exploring with Immersion exciting new ways to bring the largest and best range of gameplay experiences to our customers."
Or, in other words, let's get ready to rumblllllllle.