When cinematographer Larry Fong leaves his Macs at home and heads off to work, he's not straying too far from the platform. Instead, Fong heads into an environment made up of countless Macs running Final Cut Studio manned by editing teams strewn across the country. Fong, a cinematographer who works on projects as diverse as television's smash hit Lost and the upcoming movie 300 , knows a thing or two about getting tough jobs done and using the right equipment.
"There were a lot of reasons to use the Mac," Fong told Macworld . "It's so easy to organize things and I was able to communicate with all of the different crews."
You would expect someone working on the high-profile productions that Fong is involved with to use all of the top professional applications the industry has to offer. But when it came to getting the job done Fong turned to one of Apple's most basic applications, iPhoto.
"There's a specific look in 300 that was accomplished with a lot of experimentation with digital stills and importing them into iPhoto," Fong said. "I would send the stills to everyone that needed them, and then we setup a home page so access was very simple.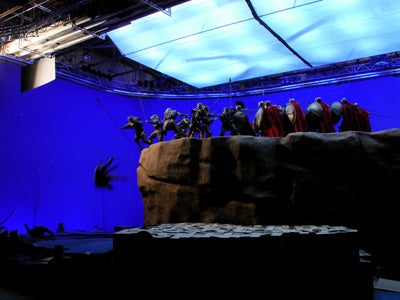 Macs help cinematographer Larry Fong turn shots from 300 like this…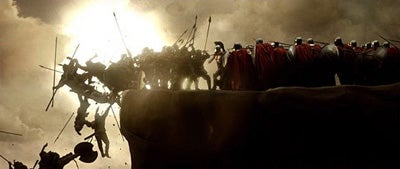 …into a finished product like this.
"I could have used Photoshop or Aperture, but iPhoto is the simplest thing to use," Fong continued. "I created an album for every scene in the movie, and it worked great. Just a quick e-mail, and they are off to the lab—I don't even know how you would do that on a PC."
Fong took his 12-inch PowerBook G4 on the road and was constantly taking photos, importing them into iPhoto and sending them off to the different departments. He said that even though the movie was shot on film, the computer manipulation was happening all the time.
Having that easy access to the photos is extremely important to Fong and the progress of his work. For the Lost episodes, all the film was shipped from the show's filming location in Hawaii everyday. Fong said he would have his images in iPhoto and sent back to Los Angeles before the film would arrive. The post-production team would know how he wanted the episode to look based on the photos, and they would be ready when it showed up.
As the cinematographer, Fong has the responsibility to take director's vision and plans for telling the story and translate it to what you see on film. On location, it's not just Fong carrying around his Mac.
"A lot of the people were using the Mac," Fong said. "Editors, visual effects people and producers all had Apple notebooks sitting on their lap. It's definitely a trend in the film and commercial industry."
Fong was introduced to the Mac many years ago by his friend, Lost executive producer J.J. Abrams, for its music capabilities, not its film capabilities. Since then, Fong has been using the Mac at work and at home where he now has two Power Mac G5s, a 12-inch PowerBook and a 13-inch MacBook.
For his work, Fong still insists on using the Mac for its ease of use and because it can get the job done.
"After a long 15- to 16-hour day the last thing you want to do is fight with the computer to finish the job," Fong said.