At a Glance
Expert's Rating
Pros
Reverb effect
Vocal-cancellation feature for use with standard music tracks
Portable and lightweight
Built-in FM transmitter
Cons
Level adjustments can be a challenge
Limited to the included wired microphone
Mono signal when using voice-cancellation feature or FM transmitter
Our Verdict
Long before countless Americans aspired to be the next American Idol, karaoke let music lovers be the stars of their own musical performances. A pair of new accessories for your iPod offer to bring the karaoke experience home for you to enjoy—instead of just passively listening to your music, you can participate in an interactive karaoke experience. Griffin Technology's $50 iKaraoke and DoPi's $60 DoPi Karaoke System take slightly different approaches to delivering karaoke, but with each, your iPod provides the songs and you provide the vocals.
Griffin iKaraoke
Griffin's iKaraoke is a lightweight and portable karaoke accessory consisting of nothing more than a slim microphone that connects to your iPod's dock-connector port. Since it's powered from your iPod, there's no other hardware required. If you don't have karaoke songs with the vocals already removed, the microphone includes a vocal cancellation switch for isolating and reducing the vocal levels of your favorite songs. However, as with the vocal cancellation feature found on most karaoke products, the effectiveness of this feature varies from song to song; in addition, the process results in a monaural signal. (The iKaraoke includes a reverb option to simulate a stereo effect when using the vocal-cancellation feature.) The controls are simple and easy to understand: play/pause, back, and forward buttons help you navigate the new iKaraoke configuration menu on your iPod. However, these buttons also control playback on your iPod, so you need to be careful not to inadvertently press them while singing.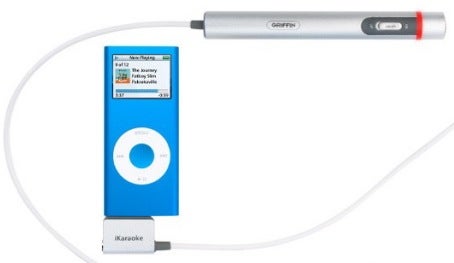 To hear to the iKaraoke's output—your music and your voice, mixed together—you have two options. For the best sound quality, you can connect a standard 1/8-inch (3.5mm) audio cable (not included) from the iKaraoke's line-out jack, located on its dock-connector plug, to a sound system. Alternatively, you can connect wirelessly, using the iKaraoke's built-in FM transmitter, to any stereo system with an FM tuner. As with dedicated iPod FM transmitters, you'll need to find an unused frequency; the iKaraoke transmits between 87.9 and 107.9 MHz. One caveat here: If you use the FM-transmitter option, you'll want the iKaraoke to be close enough to your tuner/receiver to get a good signal, but you'll also want your microphone to be far enough away from the speakers to avoid feedback issues. Since the microphone and transmitter are separated by only three feet or so of cable, this can be a challenging proposition, limiting the usefulness of the FM-transmitter feature. Also, although the iKaraoke's documentation claims stereo FM transmission, I was unable to get anything but a monaural signal using the built-in FM transmitter. In either connection scenario, you shouldn't expect great sound quality from the included microphone; it's adequate for casual use but not professional-quality.
Another drawback of the Griffin iKaraoke is that you can't adjust the microphone's sensitivity to fine-tune the mic—for example, to balance your sound levels. Although you can connect a pair of headphones to the iKaraoke's line-out jack to eliminate feedback problems (creating your own private karaoke session), since that jack is a true line-level output, you have no control over volume levels. On the other hand, a useful feature of the iKaraoke is the ability to use it in conjunction with a public address system: just mute the iPod's music, via the iKaraoke configuration menu on your iPod, and only the microphone output is sent out.
Griffin did an impressive job of packing so much functionality into such a small device. However, the gain in portability is offset some by difficulties encountered in trying to get the right balance of vocals and music without feedback and by a lack of a way to adjust the microphone sensitivity. Once you do have it configured, however, it works adequately and can provide a reasonably good karaoke experience.
DoPi Karaoke System
The DoPi Karaoke System from DoPi Karaoke—DoPi is iPod spelled backwards, in case you didn't catch that—provides more flexibility than the iKaraoke by foregoing ultimate portability to use a stand-alone mixer (although, to be fair, one that's not much larger than a full-size iPod). The mixer's input and outputs are clearly marked, making it simple to configure. The system also includes an AC adapter to power the mixer, one microphone, and all of the cables necessary to make connections to your iPod and an external audio/video system. Since the DoPi Karaoke System connects to an iPod's headphone jack, you can use it with any iPod model; however, if you want to view moving lyrics on your TV, you'll need a 5th-generation (5G) iPod (with video). In fact, the mixer gives you the flexibility to connect any audio/video source, not just your iPod; for example, you could also connect a DVD player or other karaoke system to the mixer using standard audio and composite-video connections. And while the system ships with one microphone, you can use two microphones simultaneously thanks to two 1/4-inch microphone jacks (DoPi sells additional microphones for $19.99, or you can use your own). A single dial controls the levels of both microphone inputs, and a second dial adjusts an echo effect applied to both microphone inputs.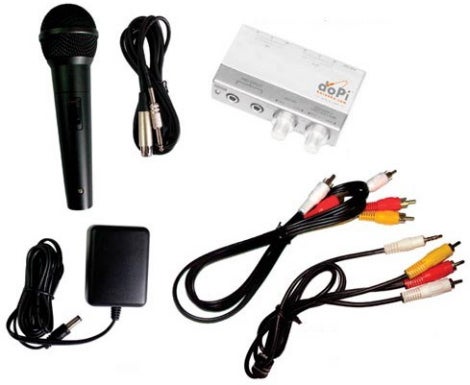 Unlike the iKaraoke, the DoPi Karaoke System doesn't have a vocal-cancellation feature, so you'll need to load your iPod with true karaoke tracks—those with vocals already removed. You can use any karaoke audio or video track in a format (MP3, AAC, etc.) compatible with iTunes and your iPod. If you don't already have such tracks, DoPi includes a card redeemable for three downloads from the company's online song store to get you started. As of this review, the store offers a searchable catalog containing nearly 9,000 tracks from almost 3,000 artists, all provided by Sound Choice, a company that distributes high-quality professional recreations of original recordings. However, most of the songs are audio-only MP3 files; only a fraction are also available as MP4 videos containing scrolling lyrics. (Pricing is similar to the iTunes Store, with audio tracks available for $.99 each and videos for $1.99 each. Unlike the iTunes Store, there is no DRM protection, so you won't have any issues using your purchases on other players.) And, unfortunately, the three free songs are limited to a subset (93 tracks) of the complete library, with this subset containing primarily traditional songs. (At least all 93 are available in both audio-only and video formats.) Still, it's a useful way to get started if you don't already have your own library of true karaoke tracks.
Once you've made all the necessary connections, you simply play your karaoke tracks on your iPod. The doPi mixer combines your vocals with your iPod's music and then sends the result to your audio system. At the same time, if you have a 5G iPod, video (for karaoke videos with lyrics) is sent to your television or other video device. As noted above, you can adjust the microphone levels and the amount of echo effect. The quality of audio and video delivered by the doPi is very good; this little mixer can pull off basic karaoke duty comparable to mixers costing twice as much or more.
For those open to using true karaoke tracks, the DoPi Karaoke System is a tremendous value. The compact mixer with support for two microphones and flexible connection options combined with a full-size microphone and all of the necessary cables make this an excellent entry-level product for the home karaoke enthusiast.
The Lowdown
Both of these karaoke iPod add-ons are suitable for karaoke hobbyists, and your choice will be based on the flexibility and portability you prefer—as well as whether or not you want to use standard audio tracks or actual karaoke versions of songs. Griffin manages to pack many features into the tiny iKaraoke, which will satisfy basic karaoke needs (as well as a bit of gadget lust) while allowing you to sing along to any music on your iPod. However, if you're willing to take the extra time to set it up, and you don't need the wireless functionality of the iKaraoke, you can get a richer karaoke experience from the DoPi Karaoke System.
James Savage, a karaoke enthusiast, is the host of the RetroMacCast, a weekly podcast devoted to collecting Macintosh computers and Apple memorabilia.