The Photo Marketing Association's PMA 07 convention, which wrapped up Sunday in Las Vegas, didn't have the excitement of Macworld Expo, but it doesn't have to: the show is primarily for photo store owners, professional photographers, and people who make their living selling cameras and related services. It's largely a hardware show, which is why Apple and Adobe weren't represented on the show floor, but Nikon, Canon, HP, Panasonic, JVC and other vendors were there in force.
Much like Macworld Expo, once you get past the big booths, there are lots of vendors in smaller stalls, many with unusual, but still useful, products. I saw lots of picture frames, scrapbook supplies, backdrops, lighting systems and photo minilabs, many of which had little interest for me, but I also found a few things that were worth a mention:
Lensbaby 3G
The
Lensbaby
, which came out in February 2004 for $96, was one of the most innovative and fun digital camera accessories we had yet seen. It's a simple thing: mounted in place of your regular lens, the Lensbaby lets you apply selective focus to part of a scene, rendering the remainder of it out of focus, much like a
Holga
or other toy camera with a plastic lens. It's also quite popular; a quick search on Flickr notes roughly 22,000 images with the tag "
Lensbaby
."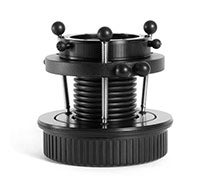 Since that first version, Lensbabies has been refining and improving their product. The $150 Lensbaby 2.0, which came out in 2005, added multiple apertures—through an ingenious magnetic mechanism that 'floats' a metal aperture disc above the lens—and a glass lens. At PMA, the company was showing the Lensbaby 3G, the "ultimate" model, which offers a locking mechanism, longer focal length (100mm, as opposed to the 50mm length on the older versions), a fine focusing dial and a greater range of apertures.
I've been using a 3G for a few months now, and it's quite an impressive piece of equipment. It has a more substantial feel than the Original Lensbaby, less like a toy and more like a professional product. The locking and fine-focus additions make it easy to reproduce the Lensbaby effect, making it an excellent choice for studio photographers. At $270, the Lensbaby 3G isn't an impulse buy—the lower-end models are fine if you're just looking to play around—but it really is a great enhancement to a fun line of products.
Adventure Vest
Loren Callahan is a Seattle-based professional photographer who wanted a better vest for carrying around gear, one that would let him get to his cameras and zoom lenses quickly, but which would also not put wear and tear on his back during a long day shooting. After testing a bunch of commercial vests, he decided to make his own, and the
Adventure Vest
is the result. The $199 vest has ample room for a camera body, multiple lenses, and other accessories, and it comes with a built-in seat, to keep you warm and dry when you have to spend a lot of time on the ground. (Loren said he came up with the seat idea after shooting basketball games in an arena where the parquet floor was laid on top of an ice rink, which often resulted in a frozen butt.)
Ben Long and I each tried the Adventure Vest on, loaded it up with a camera and telephoto lenses, and were surprised at how comfortable it was. Even when stuffed to capacity, it felt nowhere near as heavy as a full pack does on my back. The vest is a combination of mesh, neoprene and cordura nylon, and the units we looked at were well-constructed and filled with many thoughtful little details. The flip-down seat is designed to let you rock back in it for support, and it was pretty easy to get in and out of it once you got the hang of it. The seat also doubles as a tripod holder, and you can remove it entirely if you don't need the bulk.
Wearing a photo vest is an acquired taste. I know some folks who swear by them, while others would prefer to look "less dorky" and schlep their stuff on their back. Having used a couple of vests in the field, I know how good they can be, and just a short walk with Adventure Vest made me want to get one.
Loren recently found a distributor for the vests, which means that they should become available in camera stores over the coming months (he has a "garage full of them" if you can't wait). A khaki version of the vest is also on the way, for those who don't want to spend a day in the sun in a black vest.
ExpoDisc and ExpoAperture
ExpoImaging
is another company with a finely defined group of products. Their flagship product is the
ExpoDisc
, which is designed to help solve the color cast problems that can often crop up when taking pictures with a digital camera. Like the Lensbaby, the ExpoDisc's design and operation is simple. You simply hold the disc over your lens and aim it at your light source. You then take a sample image and use your camera's custom white balance setting to use this shot as the new white balance adjustment. After that, all of your shots taken in that lighting will be much closer to the actual light you saw in the scene, not in the "best guess" setting that your camera attempts.
If you shoot in Raw mode, you can easily perform white balance correction in your image editor of choice, but the ExpoDisc really saves you time and can make your workflow much more efficient, especially if you're shooting hundreds of pictures. For more info, check out Derrick Story's primer on the ExpoDisc; he offers a quick tutorial on it, and talks about why it's so essential to his work.
In addition to the line of ExpoDiscs (which are priced from $100 to $125), ExpoImaging was also showing the ExpoAperture Depth of Field Guide, a $30 field tool for helping photographers determine the proper lens aperture for regions of focus in a scene (Wikipedia defines depth of field as "the distance in front of and beyond the subject that appears to be in focus."). The product is based on a depth of field guide originally created by George Wallace, the grandfather of one of ExpoImaging's founders, and it has an old-world, "hurry up and slow down" feel to it. I showed it to a couple of photographers who thought it was a great update to the guides they used when they were starting up, while others just gave me a quizzical look. If you know someone who's getting into photography (digital or film), and is looking for a good instructional guide, it is worth checking ExpoAperture out.
---
For other PMA related news, check out Kelly Turner's reports on HD-related products announced at the show, Delkin's SensorScope and the MagicPortrait online service.