PDF has become one of the most popular document formats for distributing information, and for good reasons: Everyone can read PDFs for free, you don't (generally) need to worry about whether or not the recipient has particular fonts installed, and you have control over exactly how the recipient will see the document's contents. On the other hand, PDFs are largely read-only to the recipient. Sure, if you have Adobe Acrobat or a utility such as PDF Pen, you have the ability to make changes to a PDF, and even Mac OS X's Preview application can add basic annotations, but for the most part, PDF is a static format.
Interestingly, the most common request I see from readers for "PDF-editing ability" isn't how to actually alter the content of a PDF file. Rather, it's how to combine several PDFs into one. Although you can do this with commercial software, I've found two free (donations requested) solutions: Monkeybread Software's Combine PDFs 2.1 ( ) and Fabien Conus' PDFLab 2.0.3r2 ( ). My colleague Christopher Breen recommended Combine PDFs back in December 2005, and it's still a good choice; however, PDFLab has since become more compelling.
Both utilities work similarly: You drag multiple PDF files onto the application icon or into the application window. You can rearrange pages, if desired, or remove pages you don't want. In Combine PDFs, you choose an internal document name and author name for the resulting file, and then click on Merge PDFs; in PDFLab, you just click on Create PDF. With either app, you then choose the name and location of the resulting file. You end up with a new PDF that includes all the source files; if the original PDFs were searchable, the resulting PDF will be, too. (Interestingly enough, when you combine one or more protected PDFs—PDFs can be protected to require a password for viewing, printing, copying, or editing—using either utility, the resulting PDF loses that protection.)
However, each app has advantages over the other. Combine PDF's biggest advantage is that it's easier to reorder individual pages between PDFs—you just drag pages up or down in the list. (With PDFLab, it appears as though you can do this, but whenever I tried to move a page from within one source PDF to another, it wouldn't let me.) You can also view a quick preview of any page in a document by double-clicking on that page—a useful feature when deciding which pages in a PDF to keep or delete (or, as noted below, rotate). Combine PDFs also includes a number of "Box" options in its PDF Options menu; unfortunately, the developer doesn't explain what these options do, and I found no difference in the resulting merged PDFs when using any of them.
PDFLab, on the other hand, has an easier-to-read view—each PDF file is listed with its pages grouped below it—and more features. You can add blank pages to your final document (for example, as "spacers" between the source PDFs); duplicate individual pages; choose a range of pages to include in the final PDF (instead of having to delete individual pages manually); choose to include only odd- or even-numbered pages in the resulting PDF, or automatically produce two PDFs, one with odd and one with even pages—options useful for printing double-sided sheets on single-side printers—and even interleave two documents together. You can also use PDFLab to split a single PDF file into multiple documents, resulting in one PDF document for each page in the original. PDFLab can also automatically scale pages to fit your preferred paper size, can retain source PDFs' outlines, and even add a new outline to the final product that represents the combined PDF.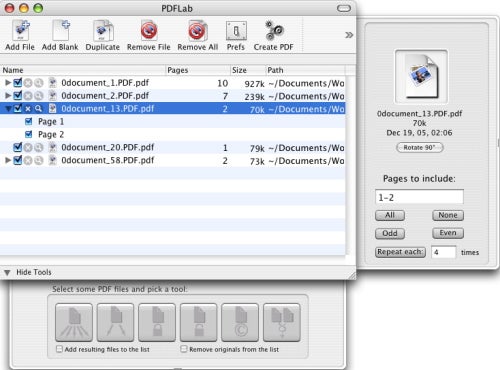 PDFLab also provides a number of features for working with individual PDF files. You can add password encryption or—assuming you have the correct password—remove it; or add a text or image watermark. Finally, PDFLab is also considerably faster, especially on Intel Macs.
Both applications let you rotate individual documents; this can be handy if your source PDF documents don't all use the same orientation. And both can also be used to "extract" individual pages, or groups of pages, out of a PDF—for example, if you just need to grab a three-page section from a larger e-book.
Keep in mind that either of these utilities may have problems with particular PDF files; for example, those that use unusual PDF features. However, in my testing, both worked well, even with protected PDF files and even successfully carrying Adobe Acrobat annotations over to the resulting merged file. The only glitch I encountered was when joining PDFs with varying page sizes using Combine PDFs; in one instance, one of the pages in the resulting document was stretched oddly.
If you need the ability to reorder pages within a particular PDF document, Combine PDFs can do it. But if you don't need that feature, PDFLab is the way to go.
Combine PDFs 2.1 works with Mac OS X 10.1 or later; it is not a Universal binary. PDFLab 2.0.3 works with Mac OS X 10.3.9 or later and is a Universal binary.
UPDATE 3/13/2007: Article corrected to indicate that Combine PDFs lets you preview individual pages of a PDF.