The Macworld Podcast hits the road this week, visiting a two trade shows of interest to different segments of Mac users. Or at least, our guests on this episode did.
We're joined by senior features editor Kelly Turner, who spent last week at the PMA show in Las Vegas—think of it as sort of a Macworld Expo for the digital photography crowd. Kelly interviewed Lowepro founder Greg Lowe about the bag-maker's 40th anniversary and its new Primus AW all-weather camera backup. Then, Kelly talks to Macworld.com executive editor Philip Michaels about some of the highlights from PMA.
We're also joined by senior editor and Game Room columnist Peter Cohen, who spent last week at the Game Developers Conference in San Francisco. While not a traditional hotbed for Mac news, the GDC did produces some tidbits that should be of interest to Mac gamers; Peter gives us a full report.
Download Episode #77
• AAC version (8.4 MB, 34 minutes) • MP3 version (8 MB, 34 minutes)
To subscribe to the Macworld Podcast via iTunes 4.9 or later, simply click here. Or you can point your favorite podcast-savvy RSS reader at:
http://feeds.macworld.com/macworld/podcast/
Everything you ever wanted to know about podcasting is contained on our podcasting topic page, including tips, how-tos, and podcasting news. You can also find our most recent podcasts, as well as complete archive of Macworld Podcasts, organized by date.
Got any feedback about this podcast? Let us know via the forum link below. Or send me an e-mail.
Show Notes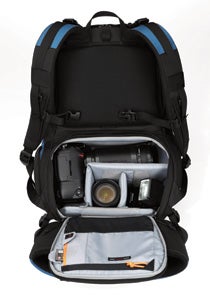 Kelly profiled the Primus AW, pictured on the right, in a Mobile Mac weblog entry. She filed several other reports from PMA on cool photography hardware and services, including Delkin Device's SensorScope, the MagicPortrait photo-editing service, and the preponderance of high-definition offerings at the show. If you're hungry for more PMA news, editor-at-large Rick LePage has a round-up of photo accessories he spied at the show.
As for the GDC, Peter talks about the newfound interest a lot of game developers and technology providers have in the Mac. You can also view a slideshow of images Peter shot at the conference.
As for my contributions to the podcast, I talk about the Mac OS X 10.4.9 update Apple released this week. Apple posted full details about what's changed on its Web site.
Music Credits: Our new theme song was written by yours truly via Apple's GarageBand. This is the second podcast theme song I've written; the other introduces Chuck Joiner's MacNotables podcast. I give a full recounting of how I constructed the theme song in the podcast.