At a Glance
Expert's Rating
Pros
Online scoring and ranking system
Easy to understand
Cons
Lame pricing structure
Lousy keyboard controls
No full screen mode
Our Verdict
The Iconfactory and Artis Software have teamed up to create their first game, a casual puzzler called Frenzic. Like all great puzzle games, Frenzic's premise is simple. Keeping up with it is the challenge—it draws you in hypnotically and ramps up fast. It's a premise we've seen repeated countless times since Tetris came on the scene in the 1980s, and like Tetris, it's addictive and beguilingly simple. It's also Mac-only.
Frenzic's game board comprises six circles spread around a center circle. Colored pie pieces, one sixth the diameter of each circle (looking a bit like Trivial Pursuit pieces), appear in the center circle, and you place them in a corresponding open slot in an outer circle to earn points. The goal is to complete each pie using as few colors as possible—the fewer colors, the more points. You'll get points for laying down pie pieces; you'll get more for completing pies.
If you manage to finish a complete pie using only one color, you'll get an extra life. And believe me, you'll need it. Because once you get going, the action ramps up fast—you have to place a piece in a limited amount of time, and that time grows shorter the more you play. If the time bar goes all the way to the red, you lose a life. One of the great challenges of Frenzic is finding a home for all your pieces. Since you can't rotate the pieces that show up, you have only six possible spots for each piece on the game board. It makes you think twice about whether you want to try to complete each circle using only one color. In many cases, it's either mix up colors or die.
Three of the circles are "power-up" spaces. Completing a pie in these spaces activates a power up—one doubles points for 25 seconds; another "nukes" the entire board clear of pie pieces; the third slows the game time for 25 seconds. The Nuke is by far the most useful for me, though the slow one comes in handy for a break.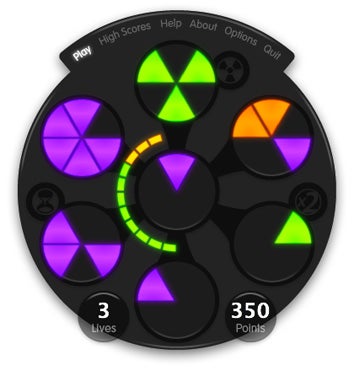 The square root of pie The goal of Frenzic is to fill up each circle with wedges, preferably of as few colors as possible. Don't let the timer swing into the red, though, or you'll lose a life.
Frenzic has keyboard controls in addition to mouse controls, but I found them incredibly frustrating to use, especially as the speed ramps up. Clearly, the game is designed to be a pure point-and-click experience. To that, it succeeds well.
Playing Frenzic alone is only part of the experience. While the game is single-player only, there's a big chunk of the game that's really dependent on being part of the Frenzic.com community. When you buy the game you can create an account on the Frenzic.com Web site. The software then reports back your scores and time played to the Web site. A personal Web page shows your high scores, dates played, and your ranking, as measured by "Devotion" level. Your ranking increases depending on how many hours you play Frenzic (Rookie, Apprentice, Artisan, Guru, Master and Grandmaster). You can also introduce your friends to Frenzic and keep track of their progress as well. Unfortunately, these online shenanigans cost you an extra $10, if you're interested in extending them for life. Save yourself the $10 up front and you'll only get six months of Frenzic's online features; what's worse, you spend $10 afterwards and only renew your subscription for one year, even though you've paid the same as the Frenzic "Guru" Bundle.
The game itself has a slick design, simple in effect but really pretty, with some transparency and glowing elements, along with a funky electronic soundtrack. It's a great combination. If you're familiar with The Iconfactory's iconography, then you probably already have a grasp on the production quality—it's quite slick and easy on the eye. Designed to work as a floating window, however, Frenzic can be hard to see well if you have a particularly high monitor resolution—a full-screen mode option ( de rigueur for many casual games) is missing here.
The bottom line
A well-presented and addictive puzzle action game, Frenzic will have you twitching spasmodically in no time. It's just very lame that the publisher has made online score tracking cost extra beyond a limited time.