I'm still doing some unpacking in the new Gadgetbox headquarters; I'm trying to decide between a Bond villain motif or a Jetsons-meet-Flinstones sort of vibe. But that can wait until after this week's installment. Digging around in la boîte d'instruments today, we've got the down-and-dirty on a new variety of Xbox 360; the latest on everybody's favorite (still vaporous) luxury keyboard; and a gadget for the speed demon inside all of us.
Black Xbox 360 lacks stealth capability
Note to Microsoft: just because you're making a black version of the Xbox 360 doesn't mean we can't see it. The scoopsters at Game Informer magazine have a spread in April's issue about a new limited edition high-end version of the Xbox 360 on its way at the end of next month. The big additions? HDMI onboard, for that delectable high definition experience, and a 120GB hard drive (up from the Premium model's 20GB).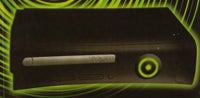 None of this should be a surprise to those who've been following Microsoft's other moves: last year they unveiled an HD video download service on their Xbox Live Marketplace, and at CES Bill Gates himself announced that the console would be picking up Internet Protocol TV (IPTV) fuctionality, including DVR features. Since HD content would fill up a 20GB hard drive pretty quick and HDMI is the latest and greatest standard for HD video, the addition of both technologies is more or less a foregone conclusion. The black color scheme hearkens back to the original Xbox, and black peripherals will supposedly be available as well, for those interested in keeping their color scheme strictly black tie.
With this development, Microsoft continues to position the Xbox 360 smack in the Apple TV's realm. At a rumored price point of $479, this new Xbox 360 model might be a little more expensive than the Apple TV, but the HD content and DVR features—not to mention the games—thrown in on top make it more than competitive. Though it sounds like there still won't be wireless included—man, how 20th century can you get?
For the Optimus Maximus, color is key
I wish I had a nickel for every time I've mentioned Art Lebedev's Optimus keyboard. Maybe then I'd be able to afford one. The crazy-like-a-fox honcho of Art. Lebedev Studios has revealed a little more of their forthcoming flagship product, which now bears the name the Optimus Maximus (I'd secretly been holding out hope for Optimus Prime , but alas that was not to be).
Having previously dialed back expectations by announcing that the Optimus would have 103 keys with black and white displays, the team has now reversed themselves, stating that they will indeed be shipping a keyboard with 114 keys, each featuring a 32×32 pixel full-color OLED display. Holy cow: If this thing was any hotter, it'd set off your smoke alarm. The keyboard will also act as a mass storage device, allowing you to upload different keyboard layouts, and the keys will be user-replaceable.
Of course, this sucker comes with a pricetag that'll make all but my buddy who works for Exxon cry uncle. Pre-orders will be taken later this month at $1,490, likely making it the most expensive keyboard without the name "Steinway" on it. And I thought $50 for a keyboard was pricey. On the upside, it looks like there will be plenty of Mac-compatibility to go around, as evidenced by these prototype shots. [via SCI FI Tech ]
Do you know how fast you were going?
Kids' toys just get more and more advanced. When I was a boy, we played with sticks and rocks, and we liked it . Maybe, if were lucky, we'd find a piece of broken glass. Nowadays, kids have toys that talk, or dance, or—in the case of the Hot Wheels Radar Gun — measure your speed .
The radar gun lets you choose between kilometers and miles per hour, and allows you to change the scale for Hot Wheels cars or, er, reality . According to the reasoning, since Hot Wheels are 1:64 scale, a toy car that goes 10 MPH is actually going 640 MPH. Crazy . This raises some interesting questions about the physics of Honey, I Shrunk the Kids .
Of course, you can use the radar gun to measure your friends running, or riding their bikes, or try and prove to that cop that you weren't doing 55 in a 20 zone (not recommended). Besides the cheap cheap price of $30 that this baby runs, you'll also need four AAA batteries, and—if you don't want to get made fun of—some Hot Wheels cars.
That's it for Gadgetbox this week. We'll be back next week with another gadget-packed installment. Now…where to hang the Cosmic Death Ray?