Accessory maker Case-mate has introduced the CarryMe, a leather case for video-capable iPods. CarryMe comes in a couple of colors and sells for $16.99.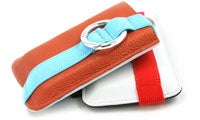 The multi-colored leather pouch features an elastic band that wraps around the case to secure the music player. The CarryMe's clasp fastens the case to a bag or belt.
Case-mate offers a pair of color choices for the CarryMe: black and white with a red band, and orange and white with a blue band. The case stores 30GB, 60GB, and 80GB video iPods.
Case-mate says it's planning a CarryMe for iPod nanos but didn't offer any further details on availability.