Drive vendors are touting one new step in hard-drive technology: a more flexible type of hard drive known as the quad-interface (or four-port) configuration. Quad-interface drives—with USB 2.0, FireWire 400, FireWire 800, and eSATA ports—are smart choices because they'll satisfy your backup needs now, but they'll also be relevant in the future.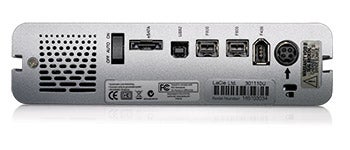 LaCie d2 Quadra Hard Drive 500GB
Why would you choose to buy a four-port drive when perfectly good three-port models are available for less money? Depending on where you shop, the difference in price between triple- and quad-interface drives of the same capacity can be surprisingly close: from 0 to 20 percent more for a quad-interface drive. Pricing always matters, for sure, but in most cases, that extra port is affordable.
Perhaps the best reason to choose a four-port drive is that it allows for maximum flexibility. Three-port drives can connect to a variety of ports, but four-port drives offer the external SATA (eSATA) port—one you may find yourself using more often two years down the road. The eSATA connection isn't yet another new type of hard-drive connector that may or may not catch on; if you own an Intel Mac, you've been using an internal SATA drive, perhaps without realizing it. SATA lets you realize high speeds; it's here to stay, and we'll be using it for years to come.
If you're having trouble deciding which connector you need, consider going with one of the six quad-interface desktop drives we review here. With a quad-interface drive, you'll get the ultimate in compatibility and flexibility: a USB connection, fast and bootable FireWire 400 and 800 connections, and the forward-looking eSATA technology. But, keep in mind that after buying the drive you'll need to shell out more money for an eSATA expansion card.