Ask a group of Photoshop users for the best method to convert a color image to grayscale and you're likely to get a debate as long-winded as the QuarkXPress vs. Adobe InDesign argument. Heck, many of us can't even agree on whether it's grAyscale or grEyscale!
In 2005, I wrote about a conversion method used by fellow blogger, Jim Barthman. Looking back, that method seems almost obscene in its complexity compared to what I'm going to share with you today.
To begin, I chose a sample image (shown below, on the left) with decent contrast to illustrate the methods used here more clearly, but the results should be similar on almost any image that you choose to work with.
The easiest method is to simply select Mode -> Grayscale from Photoshop's Image menu. If you do that, you end up with something like sample image 1 shown below.
The results in this "generic" conversion aren't too bad, but to my eyes, the image is lacking in depth, contrast and character. So I'll duplicate the image onto another layer by pressing Command + J, and will set the layer method to Overlay with an amount of 65%. This will deepen the shadows and give the image a lot of contrast—probably more than I would like, but it makes the image more interesting (sample image 2, below on the left). The background is almost completely black, and the sunglasses have darkened to the point where the reflection is nearly gone. The fur in coat's collar is also a little more dramatic.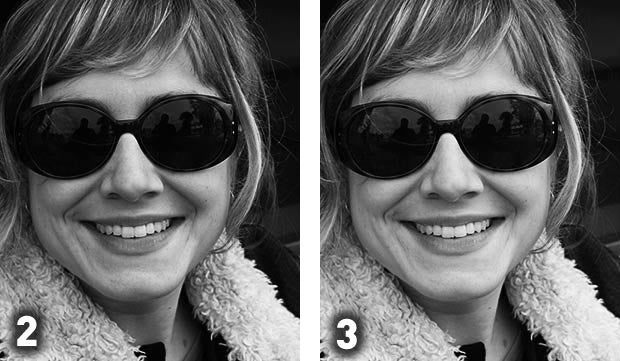 Now I'll tone it down a bit by duplicating the newly created layer and changing the layer method from Overlay to Linear Dodge and the amount to 20%. As you can see in sample image 3 (above, on the right), the image now has more tolerable mid-tones, lighter shadows, brighter highlights and many of the subtle details have returned. But when you compare this to the generic convert to grayscale version described above, you'll notice a much more interesting image.
Photoshop CS3 conversion options
If that isn't sophisticated enough for you and you're upgrading to Adobe Photoshop CS3 the moment it's available, yet another, even simpler, method will be available to you.
Photoshop CS3 will offer pixel jockeys a new adjustment method under the Image – > Adjustments menu (shockingly) called Black & White. This new adjustment method offers plenty of fine-tuning to achieve beautiful grayscale images via Color, Hue and Saturation sliders. The command also lets you save your settings as presets so you can apply them to other images later on. In my tests on the sample image, I was able to achieve so many fantastic variations that brought out different details in the image that I simply don't have enough room to show them all off. This is a small addition to Photoshop CS3 that is probably going to get the attention of a lot of digital photographers and designers.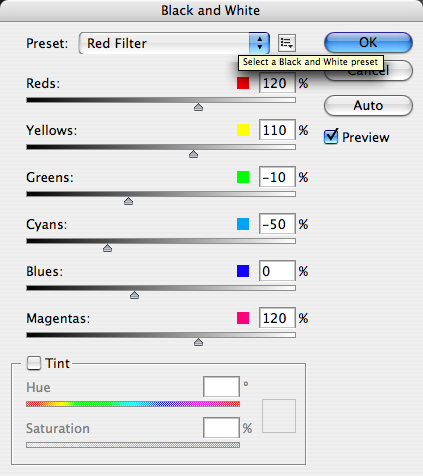 If you already have the Photoshop CS3 Beta, check it out and start converting those images to beautiful black and white now.
There are lots of other ways to convert color to grayscale, including Computer-Darkroom.com's Channel Mixer method, but I find the most flexibility and ease of use in the methods I've described above. But then again, I love a good Quark vs. InDesign debate too!
[James Dempsey runs the Creative Guy blog, which offers tips, tricks and opinion on a variety of design topics.]