Editor's Note: Adobe has announced Creative Suite 3, a massive overhaul to its applications for creative pros. Before the software bundle ships in April, we're taking a closer look at some of the applications that make up Creative Suite 3. This installment previews InDesign CS3.
Expected to ship in mid to late April, the newest version of InDesign, Adobe's flagship layout program will offer an intriguing mix of a few new features and lots of refinements throughout the software. Based on a look at a prerelease version of the software (features may change as the release is finalized), InDesign CS3 promises a smoother layout and production workflow punctuated with some newfound, dramatic creative capabilities.
What's new
Don't be surprised if, a few months after InDesign CS3 is released, you see more lighting effects such as embossing and inner shadows appear in magazines. The new version brings in the lighting effects familiar to Photoshop users and pumps them up. With InDesign's new Effects panel, you can apply any of 10 such effects plus basic transparency to your objects layout. What makes this stand out from the Photoshop approach is that you can apply any, some, or all of these effects independently to an object itself, its frame, and its contents. That provides almost unlimited creative possibilities. The only thing I didn't see in the prerelease version was the ability to apply any lighting effects to text selections.
While designers focus on the new special effects, many publishers will want to explore the new text variables capability, in which InDesign can automatically update text throughout a document, such as putting the current issue date or current topic in every page's folio, or keeping the copyright date updated in all documents. InDesign CS3 comes with several predefined variables, but you can create your own variations of these, as well as unique ones of your own.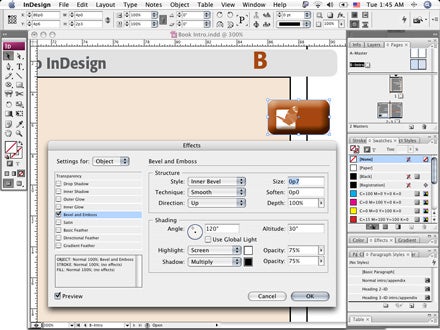 The new lighting effects in InDesign CS3, based on Photoshop's effects, provide new design creativity. You can apply them independently to objects, frames, and contents in the new version of InDesign.
Another significant new feature takes an existing function and brings a whole new capability to it—actually, several. Take Find/Change. In InDesign CS3, you get three new types of searches: object attributes, special characters, and—for the geekier set—rules-based search using the Unix Grep syntax. The ability to search and replace object attributes should make it much easier to update a document's layout or find those older objects you meant to change but overlooked when you rethought your design—even if you are using the object styles features. The ability to find and replace special symbols through the same interface as the Glyphs panel will make use of special symbols much easier. And InDesign lets you save any search so it can be reused at any time.
As with other components in the Creative Suite update, InDesign CS3 is a Universal application that runs natively on both PowerPC- and Intel-based Macs.
What's improved
Much of InDesign CS3's enhancements make the program that much more intuitive and flexible. For example, you can now create style groups in the various style panels to help manage the sometimes out-of-control styles in your document. You can also now create styles for tables and table cells, making consistent formatting and design changes easier to implement.
The Pages panel now shows you previews of the pages, making it easier to go to the right page from that often-used panel. And you can now import master pages from one document to another, making it much easier to share layout standards.
But I suspect that most designers will smile most at the newfound ability to import multiple files at the same time. You can select multiple text and/or graphics files and place them in one trip to the Place dialog box. InDesign lets you import the files in any order you want; it even shows you a preview of each file in the place pointer so you know which one you're actually placing at the moment.
Conversely, I think most designers will frown at the revamped user interface, part of a Creative Suite-wide effort to integrate Macromedia and Adobe interface approaches. It can be frustrating when familiar interface elements change, but on the whole the changes do help you use multiple products more easily. And they're not radical differences that will interfere with your ability to use the software. Nice touches include individual controls over the panels (the new word for palettes) and the collapsible docks that keep common features easily accessible without cluttering up your layout.
What to expect
I suspect that InDesign CS3 will be the kind of upgrade you really appreciate after you've had it a while, as the sometimes subtle changes begin to show their benefits. When the final product has shipped, Macworld will review the new and refined capabilities in depth, to see if they deliver on the promise of the prerelease version.
[ Former Macworld editor Galen Gruman has written more than a dozen books on InDesign and QuarkXPress. ]