Editor's Note: Adobe has announced Creative Suite 3, a massive overhaul to its applications for creative pros. Before the software bundle ships in April, we're taking a closer look at some of the applications that make up Creative Suite 3. This installment previews Illustrator CS3.
Unlike its sister app Photoshop, Adobe Illustrator does not require the user to wait through long computations and only rarely leaves you staring at a progress bar. As such, users of Intel-based Macs have generally found Illustrator CS2 to be very usable on their new machines. And so the pressure on Adobe to release a version of Photoshop that runs natively on Intel machines just hasn't been there for Illustrator.
But just because Illustrator users may be less antsy about a performance upgrade in the CS3 version of the drawing application, that doesn't mean they won't be paying close attention to the new features that Adobe has decided to add. Fortunately for Illustrator users—and for Adobe—a glance at a prerelease version of Illustrator CS3 indicates that this latest update will deliver some excellent, important new features when it ships next month.
What's new
Several new tools and commands have been added to Illustrator. Just as the Brush tool provided the ability to paint strokes just like you can in a paint program, the new Eraser allows you to erase any part of a shape just as you would in a paint program. Illustrator automatically takes care of adding the necessary control points and building the necessary shapes.
While Illustrator has long had an Alignment palette for aligning and distributing objects, alignment operations only worked on entire objects. The Control Panel now includes commands for aligning and distributing points. Any time you have multiple control points selected, you can align or distribute those points using the Control Panel.
Perhaps the most significant changes to the program, though, have been made to Illustrator's color picker. Personally, Illustrator's color picker has bugged me for a long time. It feels like it always takes far too many clicks just to change the color of something. With CS3, things are much easier, thanks to Live Color, an environment designed specifically to explore and create color combinations that can be saved and reused, similar to an Appearance or a style sheet in a word processor.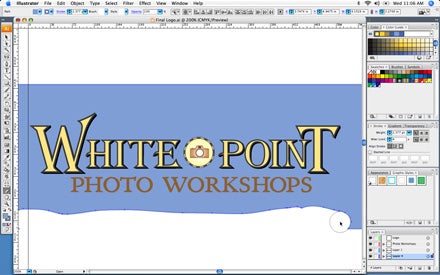 Illustrator CS3 now supports the same docked interface as the other CS3 apps. Here, you can see the new eraser being used to add an uneven edge to a shape. Note the new Color Guide palette which has automatically generated colors that complement the color of our text.
Combinations of color swatches can be created without changing the color of any objects in your library, and Illustrator can automatically create complementary, analogous, monochromatic or triad color schemes. You can also create your own "harmony" rules: choose a base color, and Illustrator will automatically present you with a selection of harmonious complements.
With the Live Color dialog box, you can dynamically apply colors to selected objects, and even shift the tone of multiple objects at one time. Remapping tools are also provided for intelligently reducing the numbers of colors in an image.
Other welcome additions to the program include a long-awaited Crop tool, which saves you the hassle of creating a Masking Object if you want to crop an illustration, and improved Flash integration.
What's improved
As with the rest of the suite, Illustrator has been updated with Adobe's new interface design which includes a number of important workspace improvements. In addition to the addition of docked palettes, Illustrator now has a Control Panel across the top of the screen, just like the other Creative Suite applications. This new Control Panel provides far more options than CS2's old Control Bar, making it much easier to configure tool options.
However, probably the best change, interface-wise, are some simple modifications made to Illustrator's selection and drawing tools. Mousing over any point with the Direct Select tool now automatically highlights that point, even if the object itself isn't selected, making it simple to find the points on a path. The Control Panel, meanwhile, now offers commands for adding and deleting points, as well as cutting and joining paths, and converting anchor points—all tasks that used to require you to select the Scissors, Pen Tool, or Convert to Anchor Point tools. Now they can be quickly performed without a tool change.
Selecting individual points is easier, but if those points are on an object that sits behind other objects, you still can't click directly on them. In the past you would have had to use some combination of locking, hiding, or layering objects. You can still work that way, but CS3 now includes an Isolation Mode which automatically brings the selected object or group to the front for easy editing, and then automatically returns it to its correct location in the stacking order when you're done working on it.
What to expect
Illustrator CS3 is much more than just CS2 with better performance and a new interface. Adobe has added a good amount of depth to the program, and we look forward to exploring it further in our final review.
[ Ben Long is a freelance writer and photographer based in San Francisco. He is the author of the recently released Adobe Photoshop CS3 Beta First Look (Peachpit Press, 2007). ]