I have two versions of "The Internet Is for Porn"—a very funny, if admittedly off-color showtune from Avenue Q —sitting in my iTunes library. The first version, I downloaded as an ala carte purchase, because I thought the tune was kind of clever and catchy and fun to listen to. And as I heard more of it—and sampled more of the Avenue Q soundtrack—I thought to myself, you know, I should just plunk down $9.99 to buy the whole album.
Only it wasn't a $9.99 purchase. It was $9.99 plus the 99 cents I originally spent on the individual track. iTunes offered no way for me to specify that I had already bought a track from the album, so I wound up downloading the same track twice—and paying a little bit extra for the privilege. Obviously, that didn't stop me from downloading Avenue Q in its entirety—I have multiple versions of that one song, remember—but it has prevented me from pulling the trigger on a couple of other full album purchases where I already own a track or two.
Attentive readers will notice the use of the past-tense "offered" in that last paragraph. As had been rumored earlier this week, Apple on Thursday introduced a new service to the iTunes Store called Complete My Album. Now, after I download a single song and decide that it strikes my fancy enough to spring for the rest of the album, I can go ahead and buy it less the cost of any tracks I've already bought and paid for. The offer's good for six months after I've downloaded a song. Go to the Complete My Album page at the iTunes Store, and you can sort potential purchases by best-sellers, purchase date, price, artist, and expiration date.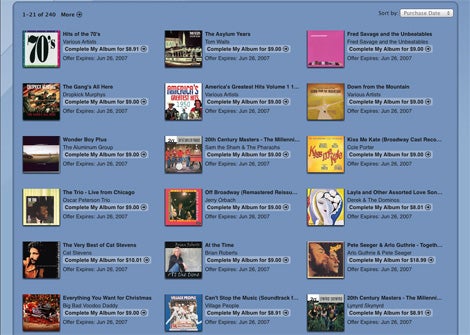 "Well, that's great for future purchases," you might be muttering to yourself about now. "But what about all those iTunes tracks I've bought over the years? I suppose the Complete My Album service doesn't apply to those."
You suppose wrong. Through June 26, you can complete any album you've ever bought from iTunes. I sifted through the 240 albums that currently populate the Complete My Album section of my account, and I can verify that it goes back all the way to tracks I bought in 2003, right after iTunes started selling music downloads. So I can buy the rest of Kilroy Was Here to go along with that May 2003 download of Styx's "Mr. Roboto" for just $7.92.
Think I'll pass. But it's nice of Apple to offer.
Here's the point in the blog post where we usually offer up the caveats—you know the sentence that begins "While this is a welcome feature, what Apple really needs to do is…" I don't have any such criticisms to offer. (You may feel differently, and you're welcome to tell me so via the forum link below.) I think this is a great service to offer iTunes shoppers, one that fits perfectly with iTunes' mission of allowing people to sample new and undiscovered tunes while broadening their musical horizons. (That it should help Apple see an upswing in downloads leading up to the June 26 expiration date for past purchases is a nice side benefit from the company's perspective.) I'm happy Apple's added this feature, and I think it speaks well of both the company's efforts to continuously improve its offerings and the ability of Internet services to adapt to the needs of users.
Now if you'll excuse me, I have a Tom Waits album to complete.