Want to look in on the kids while you're at work? Check on the house when you're away? Or simply see what the dog does all day? By outfitting your old Mac with a camera and software, you can build a monitoring system that lets you spy on your house from anywhere in the world.
The materials
To set up a home-monitoring system, you'll need a Web cam and a video-security program that lets you see what's going on from the Internet.
Web Cam You can use your Mac's iSight or a FireWire Web cam. However, these types of cameras usually have short cables, so you'll have to situate your Mac close to the camera. To mount the camera in a different room from the computer, choose a network camera, such as D-Link's Ethernet-only DCS-900 ($95) or Hawking Technologies' 802.11g or Ethernet-compatible HNC320G Wireless-G ($170).
Video Software Ben Bird's SecuritySpy is a video-surveillance program that scales easily from a one-camera setup to a professional security system featuring dozens of cameras. Evological's $25 EvoCam also works, but I prefer SecuritySpy's customizable Web interface, which lets you tweak camera and server settings.
The setup
Launch SecuritySpy. If your camera is connected to the computer, the application will detect it automatically. If you're using a network camera, go to Settings: Video Device Setup, and click on the Network Devices tab. Enter the camera's IP address and port number. Then you can opt to choose a user name and a password (to prevent nosy neighbors from looking in on you).
To enable your Mac as a live security server, go to Settings: Web Server Setup, and click on the Web Server Enabled box. Choose a port number for the server—the default, 8000, is fine. To limit access to the server, select the Password Protected box and set a user name and a password in the Account Setup screen.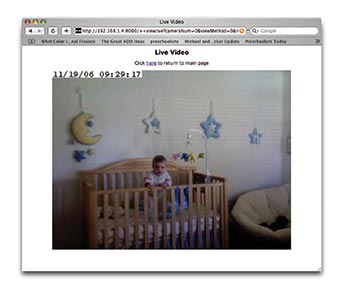 Live Views: SecuritySpy lets you view a live video feed from any computer.
To make your video available over the Internet, you'll have to open a port in OS X's built-in firewall (if it's enabled). Open the Sharing preference pane, select the Firewall tab, and click on New. Select Other from the Port Name pop-up menu, and then enter
8000
(or whichever port number you've chosen) in both port-number fields.
If your home network includes a router, you'll also have to set up port forwarding to open that same port in your router's firewall. (Port forwarding creates a "tunnel" through the firewall so you can access the SecuritySpy server from outside your network.) Port forwarding varies from router to router, so consult your manual or visit portforward.com for instructions.
Let the spying begin
To view your server from the Web, enter your Mac's public Internet address and the port number into a browser, like so:
	http://	YourPublic Address:8000	
. Once you've entered your user name and password, the SecuritySpy server lets you view any camera on your network.
If your Mac uses a static IP address, jot down your public Internet address as you set up your system ( click here to find it). If you have a dynamic IP address, you'll have to use a dynamic DNS service to locate your computer on the Internet. For instructions, see Remotely Access Your Mac.
Catch 'em in the act
SecuritySpy also has a motion-detection feature. Go to Settings: Camera Setup, and click on the Actions tab. There you can set SecuritySpy to play a sound or send an e-mail with pictures if it notices movement. Just make sure that you set the camera to Active mode (Control: Set All Cameras To Active Mode).
You can also set SecuritySpy to upload videos or images to an FTP server. That way, if someone breaks into your house and steals your Mac, the evidence you've collected doesn't disappear. Go to Settings: Camera Setup. Under the Motion Capture tab, enable the Capture Movie When Motion Is Detected option. Select the Upload To option and configure your FTP settings. Then set the Capture Type menu to Separate Movie Per Event. SecuritySpy will start uploading the moment it notices movement.
What you'll need
Mac (G3 or later) running OS X 10.4
Ben Bird's SecuritySpy (from $50 for a single camera to $500 for unlimited cameras)
FireWire or network video camera
[ Anton Linecker is a writer and technical advisor in Los Angeles. ]