We've taken the first look, remarked on what might be, answered your questions, and, finally, issued judgment. It's now time to wrap up the loose ends with some final thoughts on all that is Apple TV.
HD or not?
Since I started using the Apple TV one of the most common questions I've been asked is whether the device can play HD content. The answer is Yes.
These are the Apple TV's video specs:
H.264 up to 5Mbps, Progressive Main Profile (CAVLC) with AAC-LC audio up to 160kbps with a maximum resolution of 1,280-by-720 at 24fps or 960-by-540 at 30 fps.
MPEG-4 up to 3Mbps, Simple Profile with AAC-LC audio up to 160kbps, with a maximum resolution of 720-by-432 at 30fps.
The MPEG-4 specifications don't equal high definition but the H.264 specs, at 1,280-by-720 at 24 fps, fall within the purview of 720p.
VisualHub's Advanced Settings window
Encoding content in true-blue 720p isn't exactly a walk in the park. First of all, you need HD content. With that content in hand you can use a tool such as Techspansion's VisualHub, which includes an option for encoding video for the Apple TV, but its default settings aren't of 720p quality. Instead, it encodes at a resolution of 960-by-540. In order to bring the video up to true 720p, you must click VisualHub's Advanced button and in the resulting Advanced Settings window (which warns "Don't! You'll screw it all up!") enter
1280
and
720
in the Size fields and
24
in the Framerate field. If you enter a number higher than 24 in the Framerate field—30, for example—the Apple TV won't recognize the video.
5.1 audio or not?
During my original briefing with Apple, I was told that the Apple TV would not play 5.1 audio. Rather, it would pass any audio as a Pro Logic II encoded stream. Yet RoughlyDrafted's Ten Myths of the Apple TV demonstrates that the Apple TV can indeed output 5.1 DTS audio through its digital audio port. I've tried one of the test files linked to in the article and, sure enough, my AV receiver's DTS indicator lights up and the file plays from the Apple TV in 5.1.
So what's really going on? To get a clue, I and some of my colleagues threw a few AC3 5.1 audio files at the Apple TV and no 5.1 goodness resulted—they were output as Pro Logic II streams. I checked in with Apple and they clarified their original comment this way:
Some formats encoded at certain bit rates may work as 5.1 files, but slip outside those specs and you and 5.1 part ways. The files referenced by RoughlyDrated work. The multichannel files I tried don't. Rather than confuse customers with a "this may work, that may not" standard, Apple has chosen to say that, generally, 5.1 audio is not currently supported.
And this is probably just as well given that today's tools for ripping commercial DVDs don't extract multichannel audio. Rip a favorite DVD with HandBrake, for example, and you'll wind up with an audio track that contains just the left and right channels. Now that we have a tool as cool as the Apple TV to play our digital video, the next step is getting a tool to help us convert audio as well as video into the richest format possible.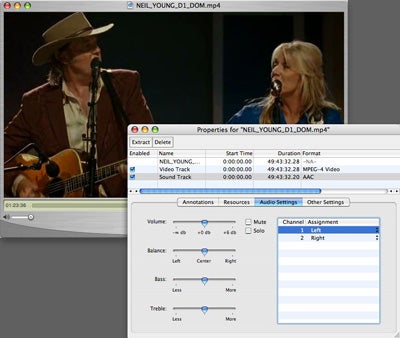 The original Heart of Gold DVD includes a 5.1 soundtrack, yet HandBrake encodes only stereo.
Apple TV and the missing HDTV
As much as you might be intrigued by the Apple TV, you believe it does you no good because you don't have a TV that will work with it. Think again. If you have a wide-screen monitor that bears a female DVI port, it can fill in nicely as the Apple TV's monitor. Just purchase a DVI-to-HDMI cable, jack the HDMI cable into the back of the Apple TV, plug the other end into your monitor's DVI port, connect some powered speakers via either the Apple TV's analog or digital audio jacks, and you're set. When you fire up the Apple TV, you monitor will be recognized as a 720p display.
Networks and noise
Some readers suggested that because I had some difficulty streaming higher-resolutions movies without a very occasional hiccup, something must be wrong with my wireless network. No and yes. No, in that both my g- and n-flavored Airport Extreme Base Stations are working quite nicely. Yes, in that, like most people, I live in something other than a perfect wireless environment. My home is equipped with common sources of interference—cordless phones, microwave, refrigerator, and heaven-knows-how-many metal surfaces. Pretty much the environment in which you'd typically find an Apple TV.
Macworld Labs attempted to test the time it takes to sync an Apple TV over the three versions of 802.11 and came up with wildly different results when repeating those tests. Apple suggested that there was simply too much noise and competing frequencies at the Macworld offices to produce reliable and repeatable results. According to an Apple spokesperson, their wireless results were obtained in as noise-free an environment as they could find. So, while wireless 802.11g and 802.11n networks should be able to move data swiftly enough to stream video seamlessly, it's quite likely your mileage will vary as mine did.
Getting in sync
In my review I suggested that you sync your Apple TV overnight as it can take a long time to perform that operation over a wireless network. After speaking with my colleagues who've performed that operation (and one who hacked his Apple TV so it includes a higher-capacity hard drive) let me add this additional bit of advice: If you want this done as quickly and reliably as possible, use Ethernet. While the results of our wireless tests were all over the map, we did learn that in an environment where wireless may not perform optimally, wired syncing over a 100Base-T connection provided the best throughput.
It can't look that good!
I understand that when you casually mention that videos from the iTunes Store are offered at a resolution of 640 x whatever ( whatever being a number up to 480 pixels), videophiles dismiss these allegedly unworthy files with a "Pfft…" Much as some skeptics initially dissed the iPod as an overpriced piece of portable hokum, so too will they look at the Apple TV's specs and deem it an unworthy companion for an HDTV.
I've said it before and will say it again: Seeing is believing . Put aside the specs and watch one in action. Rather than press your nose against the glass seeking out artifacts, view it the way you'd watch TV—from several feet across the room. While it may not match the quality of your DVD player, watching video from your Apple TV is anything but an unpleasant experience.
[ Senior editor Christopher Breen blogs about the iPod and offers troubleshooting advice in his Mac 911 Weblog. ]
Editor's Note: This story was updated at 1:39 p.m. PT on April 3, 2007, to clarify information about using a wide-screen monitor with Apple TV.