One of the unique features of Intel-based Apple notebooks—the MacBook and MacBook Pro—is the included Apple Remote. Using this small, iPod-shuffle-like accessory, you can control Front Row, turning your laptop into a portable entertainment system. Outside of Front Row, you can use the remote to control system volume, iTunes playback, iPhoto slideshows, and even Keynote presentations. And in cooperation with third-party software such as iRed Lite, Sofa Control, Mira, or Remote Buddy, the Apple Remote can do much, much more.
But to use the Apple Remote, you have to be able to find it—a challenge in itself, as many an Apple notebook owner will tell you—and you need to actually have it with you. I recently looked at two very different approaches to this minor mobile dilemma.
Case study
One approach is to use a protective case that you can attach to your laptop bag, such as TuneWear's TuneRemote or zCover's iSA Key . The $20, red and white TuneRemote is a fashionable leather case for the Apple Remote that includes a removable, swiveling, metal clip for attaching your Remote to a bag or clothing. You can use the remote while it's in the case, but it's easier to do so after removing the clip. Although the TuneRemote is made of tough, yet high-quality, leather, it leaves the Remote's buttons exposed and doesn't physically secure your Remote in the case.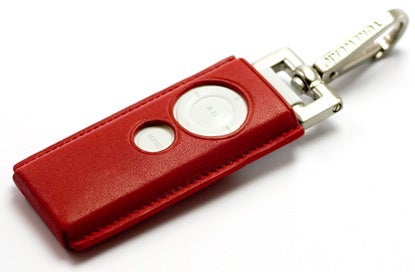 The $15 iSA Key, available in six colors as well as glow-in-the-dark white, looks much like a silicone "skin" case for an iPod. (And, in fact, is made by a company that specializes in just such cases.) Once you've inserted the Remote in the iSA Key—a process that takes a bit of effort; your Remote won't be falling out of this case—the Remote is protected behind a thin, tactile layer of washable silicone. A small hole in the top of the case, through which you insert the Remote, lets the infrared signal escape. Although the Remote's buttons are covered, you can still feel them through the case, and the sides of the case have small bumps for a better grip. The bottom end of the iSA Key provides a keyring/lanyard attachment for securing your Remote; unfortunately, no clip or ring is included, although a sturdy lanyard is provided.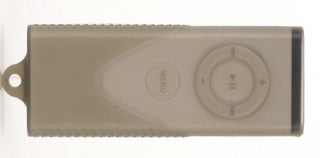 One potential additional benefit to the iSA Key is that if, like me, you've got more than one Apple Remote in your home—we have five the last time I counted—putting a different-colored skin on each one can be helpful for keeping track of which remote goes with which device. (This is necessary if you've paired each remote with a single device.) In fact, if you've got an iMac, the iSA Key's silicone is thin enough that you can still use the magnet on the side of the iMac to "attach" your Apple Remote. Unfortunately, zCover doesn't yet offer discounted multi-packs in the U.S. (they do in Europe).
The biggest downside to both of these products is that you're paying $15 to $20 for what is essentially an accessory for an accessory—the original itself replaceable for only $29. Some people will understandably opt for the risk of keeping their Apple Remote naked, willing to pay for a new one if the original gets damaged or lost.
You've been replaced
The other approach is a unique one—and one that's unique to the MacBook Pro. Instead of finding a way to connect your Apple Remote to your laptop bag, what if you could store the Remote inside your laptop itself? That's the theory behind Sik's Rex ($26 from Sik; $20 from official reseller Other World Computing ). The Rex is actually a replacement for your Apple Remote that takes the shape of an ExpressCard/34 accessory—in other words, it actually fits in your MacBook Pro's ExpressCard slot when not in use
Slightly wider than the Apple Remote, but flatter and shorter, the Rex provides the same six buttons: Play/Pause, Back, Forward, Volume Up, Volume Down, and Menu. However, because of the Rex's low profile, its buttons are flat, "bubble"-style buttons, each small and circular, rather than the Apple Remote's larger, iPod-shuffle-like physical buttons. As a result, the Rex's buttons are a bit more difficult to press and you don't get the same tactile feedback. And since the Rex is shaped like an ExpressCard-slot device, it isn't quite as comfortable in your hand as the Apple Remote. Still, once you've used the Rex a few times you get accustomed to its design and button layout.

When you're not using the Rex, it slides into your MacBook Pro's ExpressCard slot just like any other ExpressCard peripheral, securing via the slot's spring-loaded catch. When you want to use the remote, press on the end and it pops partially out for removal. Like most ExpressCard peripherals I've tried, the Rex gets quite warm if it's inside your MacBook Pro while the latter is in use, but after a couple weeks of testing, this doesn't seem to affect the Rex adversely (and I suspect Sik was aware of the heat inherent to the ExpressCard slot when designing the Rex).
In my testing, the Rex's range—which, like the Apple Remote, requires line-of-sight access to your MacBook Pro—was nearly 33 feet. That's a couple feet shorter than the range of my MacBook Pro's Apple Remote, but likely more than enough for what you'd be using either remote for.
There's one notable difference in functionality between the Rex and Apple's own Remote: unlike the Apple Remote, you can't pair the Rex with your MacBook Pro. Pairing the Apple Remote with a particular Mac means the remote can't be used to control another Mac and, perhaps more importantly, prevents other remotes from being able to control your Mac—an especially useful feature if you're giving a presentation or using Front Row in a public area.
Still, the lack of pairing and the different shape are limitations I've been willing to put up in while testing the Rex in order to always have a remote with me. And at only $20, the Rex is less than the cost to replace your original Remote, and around the same price as a case for that original—you could buy the Rex for travel and keep the Apple Remote for use at home.
On the other hand, if you're already using an ExpressCard card reader, you may find yourself in a predicament you didn't expect just a few short months ago: more ExpressCard peripherals than slots.