For $299, you can get an Apple TV … and not much else. As we've detailed in our report on removing the Apple TV from its packaging, all you'll find inside the box is the digital device, a power cord, a User's Guide, a few stickers, and a remote control. But you won't find much else.
So what do you need to start using—and get the most out of—it? Here's a quick checklist.
A TV set
The Apple TV is meant to work only with certain types of TV—specifically, widescreen, enhanced-definition (ED) or high-definition (HD) TVs capable of at least 480p resolution with HDMI, DVI, or component video connections. So if you don't have such a set, you may need a new TV (see Picking an HDTV for your Apple TV for advice and recommendations).
Although Apple doesn't really say so, you can use the Apple TV with a standard definition (480i), non-widescreen TV as long as it has component video inputs. These TVs aren've very common, but several readers have emailed and posted on our forums that they own them.
Audio and video cables
You'll notice that our list of the contents of your Apple TV box didn't include audio or video cables. Apple's come in for criticism from some users because of this, although the many variations on cables available out there doesn't really make it feasible to include any with the Apple TV.
That means you'll need either one or two cables depending on your particular setup. If your TV has a free HDMI port, an HDMI-to-HDMI cable will carry both digital video and digital audio signals from the Apple TV to your TV. Otherwise, you can use an HDMI-to-DVI cable if your TV has a DVI port, or component video cables (high-quality analog cables that split into three parts colored green, blue, and red).
The later two options don't carry audio, so you'll need separate audio connections. If your multimedia stereo system has an optical digital audio port, use a Toslink cable. Otherwise, standard RCA-style red and white analog audio cables will do the trick. Even those using HDMI may want to use a Toslink audio cable as well if you use your stereo for sound instead of your TV (and don't have an easy way to route sound from the TV to the stereo).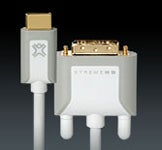 XtremeMac's XtremeHD HDMI to DVI cable
Apple had partnered with XtremeMac to sell each of these types of cables at very reasonable prices ($20 for each cable except analog audio, which costs $15). The cables are available from Apple brick-and-mortar and online stores. (My colleague Dan Frakes looked at XtremeMac's XtremeHD cable offerings in his Mac Gems weblog.)
Switchers
Speaking of cables, many TVs that have the all-digital HDMI connection only have one or maybe two such ports. If you're already using them for other devices (Series 3 TiVo or PlayStation 3, for example), you're not out of luck. If you remember those old A/B switchers used to choose which input (usually cable or Atari-like video game system) your TV displayed at a given time, you'll be happy to know the same thing exists for the modern age. Products such as XtremeMac's upcoming $100 HDMI Switcher will let you connect several HDMI devices to your TV and pick which you want displayed.
The rest
You'll also need a computer and a way to connect Apple TV to your network in order to transfer and stream content. That means a Mac running OS X 10.3.9 or later or a PC running Windows XP Home or Professional with Service Pack 2 (Vista is not officially supported currently). Whether you go with a Mac or a PC, your machine needs to run iTunes 7.1 or later.
Once that's all set up, you can directly connect an ethernet cable to the Apple TV's 10/100BASE-T ethernet port, or use its built-in wireless (Apple TV supports 802.11b, g, and n). For music streaming, 802.11b might be OK, but g or n are required for video streaming. And of course, transferring data to Apple TV will depend greatly on your connection speed.
Finally, you'll need content. Once you pair the Apple TV with your computer, you should be able to play anything in your iTunes library. That includes music, movies, TV shows, and podcasts downloaded from the iTunes Store. It will also work with AAC, MP3, Apple Lossless, AIFF, and WAV files you've imported yourself, as well as MPEG-4 and H.264 video you've encoded using QuickTime or other apps, and that fall without the supported parameters ( See the Apple TV tech specs for complete details.)