Apple's Logic Pro is a versatile application that enables musicians and producers to create, record and master audio. People use Logic in many different ways, depending on the type of project they are working on—for me, it's recording my guitar and laying down drum tracks and other instruments.
I use drum loops quite a bit, but lately I switched to using FXpansion's BFD acoustic drum module. BFD is highly configurable, from the grooves it can play, to configuring the velocity and individual drum kit components, and the end result is an incredible variety of beats.
You can easily Control-Drag on a sample in BFD's Groove Library and drop it into Logic's Arrange window, but I wanted to record the drum beats as an audio track. I wanted to do this for a couple of reasons, but mostly I wanted to make the beat into an Apple Loop so I could reuse it in Logic Pro or GarageBand.
Getting Logic to do this requires more than just assigning the output of the BFD instrument to an audio track. Here's how I got it to work:
First, create a new project in Logic and open the Environment window. Scroll down until you get to an instrument track and insert the BFD All Multi Channel plug-in under the I/O. Of course, you'll need to add your kit by clicking on the drum kit button and then use BFD's Groove Librarian to choose the type of drum beat you want.
Next, create a stereo Audio Object and assign the channel to Aux 1, or the first open Aux channel you have. Then, click on the I/O and choose BFD All 3-4 as the input. In the Sends section of that object, choose Bus 1 (Don't forget to adjust the send volume—it is off by default).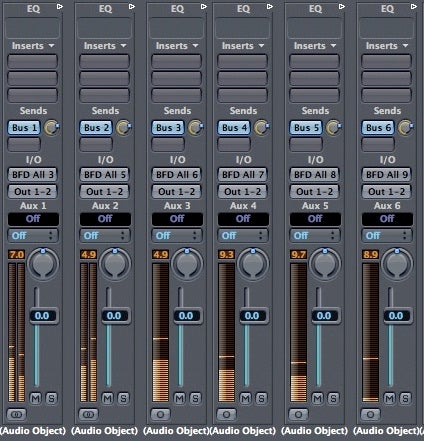 If you start BFD and look at Bus 1 you should be getting a signal into that object now.
Next, create another Audio Object and choose Input 1-2 as its input — one more step before we start recording. In the Inserts section of this object, you need to add a Gate and set the Side Chain to Bus 1. Now, you need to click the Monitor button on the Gate or you want get a signal.
If you go to any audio track and click on the record button, you should have signal coming through, which means that you can record BFD on an audio track. From there you can cut out Apple Loops from the recorded BFD audio by choosing a section of the recording in the Arrange window and go to the Audio – > Open in Apple Loops Utility… menu item.
If you want to take it a step further you can repeat the above steps for all 16 BFD outputs, which will allow you to record each drum piece on a separate track. By doing this you can create one-shots of the snare, tom or bass drum, which always come in handy during a recording.
In addition to creating loops from BFD, I've done similar projects with Logic's Ultrabeat module, so this tip should also work with a variety of other multichannel instruments.