I recently sat down not once, but twice with Hewlett-Packard executives to discuss the company's enterprise printer strategy. Suffice it to say that HP plans on taking this large-business sector seriously. Much of these briefings had to do with new, simplified print driver technology for Windows users and the kind of high-volume printers that you don't buy, but rather lease or pay per print through a service contract with somebody like IKON —not the sort of stuff that matters to most Mac users. But HP did cover one new product that piqued my interest.
The HP CM8060 Color MFP is a large, departmental printer, scanner, and copier, much like the one the Macworld editorial staff shares, only a little larger. Under the hood, however, there are big differences. Whereas our current Macworld copier is laser-based, the CM8060 is a super-sized inkjet printer with print speeds that we here at Macworld can only dream about. Instead of a small printhead zipping back and forth across the page as it prints, the CM8060 features HP's Edgeline technology which uses stationary printheads that span the width of page. The paper moves as it is being printed, not the print heads, allowing this inkjet to print documents in a single-pass at speeds of up to 71 pages a minute.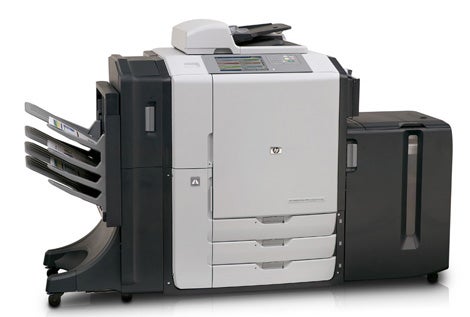 Average print speeds for the device are more like 50 to 60 pages per minute, but that is still speedy. And though lab quality photos are not the focus of this sort of printer, HP already uses Edgeline technology in its photo kiosks.
Look, this printer isn't going to fit in your small office; it's more likely to be leased through HP or its authorized service providers than purchased at Staples or Best Buy. But innovations that start at the high-end of the market often trickle down into the small office/consumer price range at some point. Are today's color laser printers tomorrow's dusty dot matrix? Only time will tell.