We've previously written about how to rip DVDs and convert other files into formats that will play on an iPod and even how to make those videos look best when played through the iPod on a TV. But you can also convert these videos into Apple TV-compatible files that you can enjoy from the comfort of your couch in the best possible quality.
Rip DVDs
Let's say you've purchased a movie on DVD, and you want to watch it on your Apple TV. You could buy a computer-friendly copy from the iTunes Store—if it's available, that is. Or you could save some cash and rip that DVD to your computer, and then transfer the video to your Apple TV. But before you dive in, remember that this is a gray area, legally speaking. Because ripping commercial DVDs circumvents the copy-protection system employed on these discs, it's questionable as to whether the use of this type of software is legal—even if you own the DVD and are ripping it only to watch it in another form. You'll have to assess the risks yourself; if you decide to take the plunge, read on.
Step 1 Start by downloading MediaFork 0.8.0 beta 1 for PowerPC and Intel, OS X 10.3.9 or later. Note that the next beta version will again be called HandBrake, and will include new features such as presets for Apple TV and iPod conversion, as well as the ability to embed chapter markers in your file.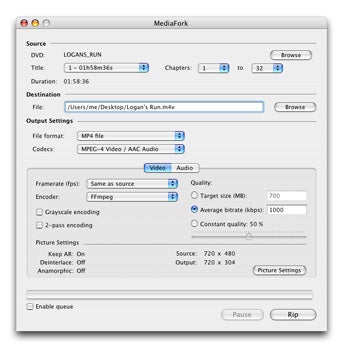 MediaFork gives you an easy way to turn your collection of DVDs into Apple TV files.
Insert your DVD, launch MediaFork; by default, the app will show the name of the DVD in the pop-up menu next to the Detected Volume. Click on Open to scan the disc, then choose the longest title on the disc from the Title pop-up menu. To make it easier for iTunes to accept your file, you may also want to open MediaFork's preferences and select the Use iPod/iTunes Friendly (.m4v) File Extension For MP4 Output Files option.
If you see the message "No Valid Title Found," that means MediaFork can't read the disc. (This sometimes occurs with recent DVDs that have special copy protection.) If that happens, download a copy of MacTheRipper, which is more adept at bypassing DVD copy protection. Once you've used MacTheRipper to rip an unencrypted version of your DVD to your hard drive, launch MediaFork. In the sheet that appears, choose the DVD Folder / Image option. Navigate to the VIDEO_TS folder of the disc you've extracted and click on Open to continue as above.
Step 2 According to Apple's specifications, Apple TV-compatible files have different limits based on the encoder used. H.264 files can be up to 5 Mbps using the Progressive Main Profile (CAVLC) with AAC-LC audio up to 160 Kbps. The maximum resolution is 1,280-by-720 pixels at 24 fps, and 960-by-540 pixels at 30 fps. MPEG-4 files can be up to 3 Mbps using the Simple Profile with AAC-LC audio up to 160 Kbps. The maximum resolution is 720 by 432 pixels at 30 fps. (In our tests, we've gotten files with even higher specs to play on the Apple TV, so use the following as a guideline.) Although you're unlikely to come up against the resolution limit for MPEG-4 files, you should choose H.264, since it gives you more flexibility in terms of data rate and generally looks better than MPEG-4. So set MediaFork's File Format pop-up menu to MP4 File and its Codecs menu to AVC/H.264 Video / AAC Audio.
With the Video tab selected, you'll see several video options. Framerate (FPS) should default to Same As Source, and Encoder should default to x264 (H.264 Main)—if not, set those option as such. In the Average Bitrate (KBPS) field, enter 2500. You shouldn't need to adjust the output settings.
Now click on the Audio tab and select your language from the Language 1 pop-up menu (currently, MediaFork mixes multichannel soundtracks down to stereo). The other audio should be fine as is.
You're now ready to rip. Enter a file destination and name in the File field near the top, and click on Rip. Depending on the length of the movie and the speed of your computer, this can take a few hours. If you're not satisfied with the quality when it's done, you can increase the bit rate, or you can enable 2-Pass Encoding, which analyzes the video and adjusts data rates according to the complexity of particular scenes. If you'd like to try out several different settings without encoding an entire movie each time, test them on just one chapter. To do so, pick the same number in the Chapters area—for example, Chapters: 3 to 3. You'll even see the duration of the chapter so you know how long of a section you're encoding.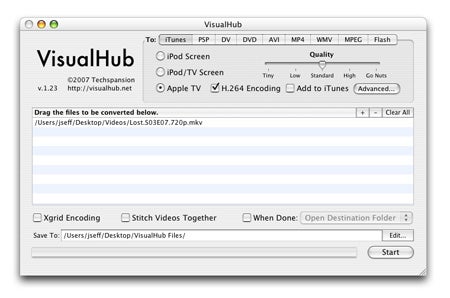 VisualHub can handle almost any video file you throw at it…
…and can do HD encoding as well.
TV episodes
If you want to rip several elements from one DVD—TV show episodes, for example—select the Enable Queue option in the bottom left corner of MediaFork. Now adjust your settings as you'll want them for all episodes and find all of the titles that are similar in length (around 22 minutes for a half-hour show and 43 minutes for a one-hour show). Then pick the first title you want, name the file, and click on the Add To Queue button at the bottom; repeat this for each episode. When you're done adding them all, click on Start (the name of the Rip button changes when you enable the queue).
Convert hard-drive videos
Of course, videos aren't just limited to DVDs. If you can open a file in QuickTime, you can use the Movie To Apple TV export command in QuickTime Pro 7.1 or later to create a video that will play on an Apple TV.
But such a conversion can be extremely slow. Another option is for Mac users is Techspansion's $23 VisualHub 1.23 ( ), which now includes an option for Apple TV encoding.
Launch VisualHub, click on the iTunes button in the To: section at the top, then select the box next to Apple TV and the box next to H.264 Encoding. (Otherwise, it'll be MPEG-4). Now drag a file or number of files into the main window under where it says Drag The Files To Be Converted Below—VisualHub works with many different files types, including several that QuickTime can't—and click on Start.
If you're not happy with the results, you can move the Quality slide to High or Go Nuts. For more control, especially with have high-definition source content—from an HD camcorder or TV capture box, for example—you'll want to turn to the Advanced Settings window. Click on the Advanced button to open it, and you can tweak the frame size, bit rate, and so on. Remember that HD files on the Apple TV can only be 1,280-by-720 pixels at 24 fps, or 960-by-540 pixels at 30fps, so you may need to adjust frame size and frame rate to get a playable file.
[ Jonathan Seff is Macworld 's senior news editor. ]