After a brief mixup Sunday morning (it took a talk with Apple PR to convince the people sitting behind the press desk that I was indeed worthy of a media badge and not doomed to wait in line with the general "guests") I made my way to a ballroom at the Venetian Hotel in Las Vegas for Apple's event on the eve of 2007's National Association of Broadcasters (NAB) trade show.
The room was packed with a few thousand members of the press, VIPs, Apple employees, and assorted invited guests. With two years since Apple's last major update to its pro video apps, this event was something that generated a lot of speculation. (And thanks to an open Wi-Fi network, I was able to shoot live updates to Jim Dalrymple thousands of miles away to post up-to-the-minute coverage about Apple's announcements.)
Rob Schoeben, Apple's vice president of applications product marketing, wasted little time getting started with what ending up being a close to two-hour affair. According to Schoeben, there were 250,000 Final Cut editors worldwide two years ago; that number jumped to 500,000 last year and now sits at 800,000. The theme for the day was "It's a Final Cut World." He then showed a demo reel with all the projects in which Final Cut played a part in the last year: movies such as Reign Over Me and 300 , TNT's show The Closer , and many documentaries and commercials.
It is this growing—and vocal—community of Final Cut users that lead Apple to create a new product called Final Cut Server aimed at helping editors with the massive amounts of digital content they have, as well as the non-linear collaboration and shrinking production schedules they are forced to deal with. The media asset management and workflow automation software even has a cross-platform client so all video editors can enjoy it. As Schoeben put it, "It's the same interface if he or she is stuck on a PC." (Requisite PC dig at Apple event— check .)
Although the attendees were impressed, what garnered the most applause was the price tag—$999 for 10 concurrents users, or "$99 a seat to solve this problem that's been haunting us," said Schoeben. Even the $1,999 unlimited version was heralded. The only part that didn't draw loud cheers was the news that Final Cut Server won't be available until this summer.
The bulk of the event was spent on a new version of the Final Cut Studio suite of applications. Final Cut Pro bumped up to version 6 with a new 10-bit, 4:2:2 codec—Apple ProRes 422—that gives you uncompressed HD at SD file sizes. For example, Schoeben showed how 1TB of footage was reduced to 170GB using Apple's new codec. "It's funny that 170[GB] is really small these days, but that's the world we live in," he added. It also adds the ability to mix formats, resolutions, and frame rates within a single timeline—a very cool feature that some competing applications already have. Final Cut Pro 6 will also have native support for the 4K Red One HD video camera, which should be shipping soon for $17,500 (very affordable for the type of quality we're talking about here).
Apple also showed off a new device from AJA Video Systems called the Io HD, which has Apple's ProRes codec embedded inside. The $3,495 portable Io HD is made to work with Final Cut Pro and Macs to help move video in and out of Macs. It ships in July.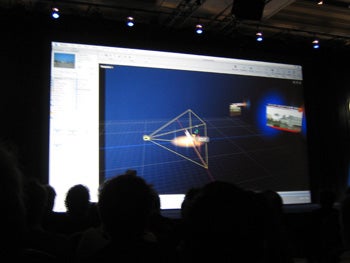 A look at the Perspective view in Motion 3
Next was
Motion 3
, which adds pervasive 3-D capabilities, as well as audio and path tracking enhancements. Apple's Dion Scoppettuolo showed a cool demo where an animated object—in this case, an antenna image built-in Motion—responded to a video clip's vocal track. He also showed how to use Motion's 3-D camera movements with the help of built-in behaviors such as Sweep, Dolly, and Zoom (each has a helpful description when you select it).
Soundtrack Pro 2's big new features seem to be its newfound 5.1-channel surround sound abilities, Take Management to help combine multiple takes of dialog into one ideal clip, and a Conform feature that lets you sync changes between picture and sound when a video editor makes changes and expects you to follow suit. (The accept or override part is similar to Microsoft Word's Track Changes feature).
The final update was in Compressor 3, which adds presets for iPod, Apple TV, and more. The updated Compressor also lets you group common settings together for batch processing individual files and includes animated watermarks from Motion. Schoeben showed a slide comparing the time it took to encode a 10-minute HDV clip to iPod-compatible H.264 video on an 8-core Mac Pro with Compressor 2 and Compressor 3. The previous version took 16 minutes, 45 seconds to do so, while the new one took only 6 minutes, 2 seconds to complete the same task. That better-than-real-time result was due in part to the fact that you can now select how many instances of Compressor you want to run—you can choose as many as your Mac has cores.
If you don't see DVD Studio Pro in this list of Final Cut Studio updates, it's not because I'm a lazy journalist who couldn't be bothered to pay attention during that part of the event. Apple is not releasing a new version of DVD Studio Pro, and the Final Cut Studio includes the current DVD Studio Pro 4 version.
What Apple did do was add an entirely new application to the suite, Color. Schoeben said that back in 1999, when Final Cut Pro first came out, it used to cost more than $100,000 for an editing suite—Apple has done its part to bring that number down significantly. Now he says that a system for color grading and finishing also costs more than $100,000. His feeling: "That is so not OK." So Apple is releasing Color, a real-time professional color grading and correction tool for Final Cut Pro editors. My guess is that Color is based on FinalTouch, color-correction software made by Silicon Color, which Apple purchased in October.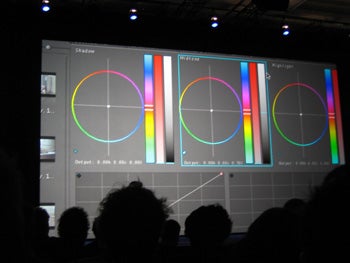 Apple demonstrates Color, the new application that's part of Final Cut Studio.
Color includes primary and secondary tools, more than 40 Color FX (Exposure, Film Grain, Alpha Blend, Bleach Bypass, Film Look, Blend, and many more), as well as pan and scan tools and aspect ratio conversions. One cool feature was Saturation Curves, which serves as a visual representation of what you're doing with saturation. You can also drag-and-drop settings from one scene to others, and a 3-D scope shows you all the pixels represented in 3-D space. The crowd seemed generally taken by Color, but the biggest joy came when Schoeben announced that it would be part of Final Cut Studio 2 and not a separate application ("I had a weird feeling that you were going to like that part," he said.)
All in all, the whirlwind tour through the new apps showed that Apple has been spending a lot of time and effort on improving its pro video products (and in a few cases, inventing new apps). It did strike me as odd that DVD Studio Pro was the only program left out of the Studio makeover. And those who were expecting new displays from Apple or a revised MacBook Pro will surely be a little disappointed. But Final Cut Studio 2 does look very nice. I'm looking forward to getting my hands on it.
And unlike Leopard, I won't have to wait until October to try it out—Apple said that Final Cut Studio 2 will ship next month.