Avid's big Mac-related announcement actually came a few weeks ago when the company announced updated versions of its Media Composer family and Xpress Pro products. These updates (to Media Composer 2.7 and Xpress Pro 5.7 ) brought with them native Intel support for Mac users. But what Avid also showed me during a demo Monday morning were several other big features (shared by the Mac and Windows versions of the software).
Both products expand their support for Sony's XDCAM and Panasonic's P2 media formats, letting users write edited files back without converting to intermediary formats (although P2 write-back is currently not available for Intel-based Macs).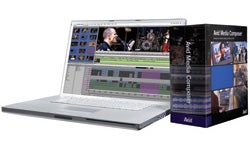 Avid Media Composer
Another new feature is Avid's DNxHD 36 format, a highly efficient, full-raster HD codec for offline work with a data rate of only 36Mbps. (By contrast, regular DV video is 25Mbps.) Avid says DNxHD 36 is ideal for playback, editing, rough-cut screening, and reviewing dailies in a format that takes around 16GB per hour (that's nothing in the world of HD video).
The other big addition is ScriptSync, a feature that uses Nexidia's phonetic speech recognition technology to automate the task of synchronizing scripts or transcripts with their respective media files. During the demo, it took about 15 seconds to do what Avid told me would take almost 8 hours otherwise; a PR person later gave me a less dramatic estimate of "25 fold" time savings, but it's still a very impressive—and noticeable—improvement.