Once upon a time the Mac market was littered with paint programs—CE Software's Amazing Paint, Microfrontier's Color It!, Delta Tao's Color MacCheese, MECC's Easy Color Paint, Apple's MacPaint, Electronic Arts' Studio/32, Aldus' SuperPaint, and Deneba's UltraPaint, to name more than a few. Look now and what do you find? High-end applications such as Adobe's Photoshop and Corel's Painter. Where's a dabbler (with a dabbler's budget) to turn?
Ambient Design's ArtRage 2.2 ( , $20), that's where. The inexpensive price tag of this natural-media paint program belies its power. ArtRage offers painting tools that include oils, pencils, airbrush, chalk, glitter, roller, eraser, paint tube, palette knife (for spreading applied media around), crayon, and markers; a variety of canvas textures; and controls that allow you to vary the amount of media you place on the canvas as well as the pressure used to apply it. These controls include Pressure, Thinners, and Loading gauges that you can adjust from 0 to 100 percent. And the program is responsive to pressure transmitted by a pen and graphics tablet. Additionally, you can adjust the thickness of your lines and strokes from 1 to 100 percent. (You can select every tool and adjust every control with a keyboard shortcut; for example, the tools are selected with numbers on your Mac's numeric keypad.) You can even customize the texture of the canvas.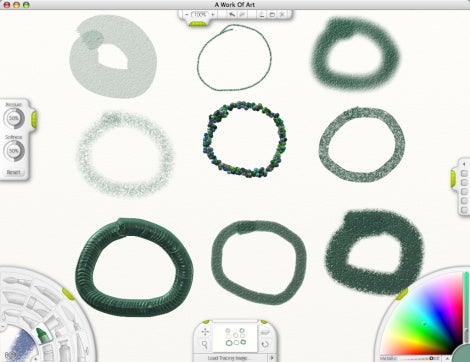 Examples of ArtRage's nine main media tools: Brush, Pencil, Airbrush, Chalk, Glitter, Roller, Paint Tube, Marker, and Crayon.
For the most part, ArtRage's tools behave like the real thing. For example, by default, when you paint over another color, that color will be picked up by the brush and combined with the currently-selected color in a realistic way. (If you prefer, you can switch on the Insta-Dry feature so that this combining of colors doesn't occur; one color simply paints over another.) If you paint one "wet" texture over another, the brush will combine the colors until you "wash" your brush. Less than realistic—though very helpful—is the palette knife. Unlike the real thing, it will smear any medium under it—water colors and pencil included (though, in fairness, the latter lightly smudge more than smear).
Those accustomed to other painting and drawing programs—AppleWorks' Paint and Draw components, for example—should understand that ArtRage is true to its natural-media mission. This means that you won't find tools for creating shapes nor will you spy a paint bucket in the program's attractive interface. ArtRage presents you with the kind of tools you're likely to find in a well-equipped art-supply store. If you need to create perfect circles you'd better learn to draw them. I do wish, however, that the Erase tool offered the option to erase everything on the canvas with one fell swoop. Yes, you can simply create a new document, but I prefer a one-step "clear the decks" feature.
ArtRage makes it easy to trace over imported JPEG images.
Speaking of its interface, ArtRage takes a detour from other painting programs by dispensing with the many small palettes that litter other graphics applications. Instead, in the default view, all tools and controls extend into the window that holds the program's canvas. If you need to work in the area occupied by one of these elements in this view, it will disappear as you move into the area. Or you can simply make all of these things disappear by Control-clicking (or right-clicking) on the canvas. On the other hand, if you don't care to have tools extend into the canvas, you can switch to a full-screen mode that places the canvas in the center of your monitor and the palettes arrayed around the screen's edges.
The interface, though beautiful, takes some getting used to, as it's not completely true to the Macintosh way. For example, when you close a painting, the program quits instead of sticking around so you can create your next masterpiece. As in Windows applications, the Preferences command is found in the Edit menu. And while you can flip ArtRage's window into full screen with the click of the Mac's green grow button in the upper-left corner of the window, there's no option for clicking and dragging the lower-right corner of the window to resize it.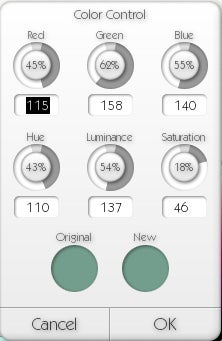 ArtRage includes extensive controls for choosing colors.
The tools and controls are extensive enough that you should be hemmed in only by the limits of your talent. Even then, talent beyond a steady hand isn't necessarily required. ArtRage lets you load a tracing image "beneath" your now-opaque canvas. With such an image in place, simply select the tools you want and trace over the image. ArtRage can even automatically choose a color to match the color found on the tracing image beneath the canvas. Regrettably, ArtRage is particular about the file format it accepts for tracing images—it's happy to use JPEGs but won't accept PICT or TIFF files. That said, if you mainly trace photographic images, which are usually saved as JPEG files, this shouldn't be a huge burden.
ArtRage supports layers, which you can merge or blend with other layers. You can also export individual layers should you wish to tweak them in another application.
The program also supports a wide variety of color pickers, including HK/S Picker, HS.L Picker, LS/H Picker, RG/B Picker, RB/G Picker, BG/R Picker, Numeric Color Picker, and a Custom Picker, in which you can create your own color palette. You can even apply metallic textures to your colors.
ArtRage 2 is a terrific natural-media painting program at a price that's impossible to resist. Whether you're an accomplished artist or a dabbler, you'll find the program a wonderful way to unleash your inner-Degas.
ArtRage 2.2 requires Mac OS X 10.3.9 or later and is a Universal binary.