At a Glance
Expert's Rating
Pros
Swiveling, glare-resistant screen
Two headphone jacks
SD card slot
Excellent picture quality
Clean, user-friendly design
Easy output to TV
Car adapter included
Cons
Mediocre color saturation
No car kit for seat-back attachment
Our Verdict
In the growing field of portable video players that use the fifth-generation (5G) iPods as a source of video, the appearance of Philip's DCP750 is unique andstriking: the outside of the clamshell-style video player is white, while the inside, including the screen housing, is black. These two colors—one of which will match any iPod you put inside—reflect the DCP750's versatility. Not only can the 8.3-inch by 6.8-inch by 1.6-inch, 2.4 pound player—about the size of a trade paperback—dock, charge, and display videos from 5G iPods; it can also play standard DVDs, video CDs (VCD), DivX, DVD+/-R, and MPEG4 format discs. In case that's not versatile enough for you, there's even a slot for an SD/MMC card if you want to view photos or videos directly from your camera.
This feast of features seems apropos for an iPod accessory that, like all iPod video viewers, is much larger than the iPod itself. The fact that it's also a superb portable DVD player adds great value; the DCP750 more than carries its weight, so to speak.
Philips managed to pack many user-controlled features into the DCP750 while keeping the housing elegant and uncluttered. The unit needs to be charged for a few hours when first taken out of the box, but within a few minutes of unplugging it from the AC adapter I had successfully docked my 30GB 5G iPod and was watching "the show with zefrank" on the DCP750's 7-inch screen. The picture, both from DVDs and my iPod, appears much sharper than the screen's 480- by 234-pixel resolution would suggest; Philips touts a "Zero Bright Dot" technology that eliminates bright dots on the LCD screen, which may be a contributing factor. I also liked the non-glossy screen surface, as it provided glare-free viewing while moving about my home and office. On the other hand, the display seemed a bit muted, suggesting there could be some improvement in color saturation, but this is a relatively minor quibble.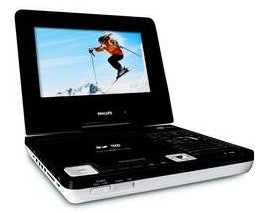 The Philips DCP750 has too many features to review each in detail, but it's worth discussing what sets it apart from other iPod video-viewing devices. After ease of use, a category in which it outshines other viewers I've tested, such as the iLuv i1055 and the Sonic Impact V55, what's most striking about the Philips unit is that the screen swivels 180 degrees and then flips down on top of the DVD player and iPod, which lets you lay the system flat. The convenience and utility of being able to easily move between tablet and clamshell configurations is hard to understand until you have the option, after which it seems an indispensable feature.
The unit comes with an auto power adapter, but no car mounting/attachment kit, which is unfortunate—the swivel/tablet feature would be quite useful in a car, where the player could be attached to a seatback.
The DCP750's DVD player is well-designed. The most important controls (play/pause, eject, menu, forward, back) are conveniently placed at the top-front of the open clamshell; lesser-used controls, such as the one for subtitles, are relegated to the clean, elegant remote control. (The remote fits neatly into the system's iPod space when an iPod is not docked, a nice touch for travel and storage.)
I've never had an easier time linking an external device to my TV; Philips provides a single AV cable that requires no instructions. I found the quality of the DCP750's DVD-to-TV output to comparable to that of a basic standard DVD player, and the iPod video-output to be near-VHS quality.
The DCP750 also includes a screen brightness control, two headphone jacks, and an AV-in jack (for example, to connect a video-game system). I was able to easily switch between 16:9 and 4:3 screen aspect ratios when watching videos from my iPod. The matte-black case resists smudges; a nice touch (no pun intended) for a device designed for in-hand use and fingertip button-pushing.
When using battery power, the DCP750 played DVDs for approximately 2 hours, 45 minutes before needing a recharge. I was able to get over 4 hours of playback from a mix of DVDs and iPod-hosted videos. (The DCP750 uses less power when playing iPod video, since the iPod powers itself and the DCP750's battery doesn't have to power its own DVD player.) When playing iPod-hosted video exclusively, my 30GB iPod's battery, which lasts around 3.5 hours, died before the DCP750 ran out of juice. As with iLuv's i1055, the DCP750's included AC power adapter is light enough to carry easily. Between AC and DC (car) power, it's easy to find a power source when traveling.
The Lowdown
Of the four players that I've tested that enable you to dock your 5G iPod and view its contents—the other three being Memorex's iFlip 8.4, iLuv's i1055, and Sonic Impact's Video-55—the Philips DCP750 is by far the most thoughtfully designed. The top-loading DVD player appears to have been a primary consideration, rather than an afterthought, and it shows in the unit's ease of use and output quality. Philips seems to have done just about everything right, including choosing an attractive price point. Although not cheap, at $150 the DCP750 definitely gives you your money's worth.