There are a lot of applications available for Mac using guitarists to create songs. Most have a very similar interface design and for the most part work the same way. One company has taken a new approach to helping musicians create music and, in the short time I've been using it, I have found that it really works for me.
With the release of RiffWorks 2, Sonoma Wire Works has changed the way I think about building a song. Instead of the interface I'm used to seeing — the audio and instrument channels on the left side and the timeline on the right, like GarageBand — RiffWorks presents itself as a collection of riffs split into three parts: Riff Recorder, Riffs and Song.
The Riff Recorder is where all of your layers are recorded and where effects can be added. The Riffs section shows the collection of your recorded riffs and the Song section is where you put your different riffs together to build your song.
Each riff is a completely self-contained part of your song that includes the guitar and drums. So to build a song you need to begin recording your guitar parts. If you have an opening riff to your song, chose the drum beat you want and then click record — if you chose an 8 beat riff, play until the end of beat and then stop. There is your first riff.
Sometimes I play a riff better the second or third time around — if you want to keep playing, do so and RiffWorks will automatically create a new layer. This allows you to choose the best riff and mute or delete the ones you don't want.
Next, create a new riff and chose a Verse beat from InstantDrummer (the application's built-in drummer) and record that. Do the same for the Bridge and Chorus and you have the basis for a song. If you want to solo over a section of the Verse, just duplicate that riff and name it something different, like Solo. Now press record and that riff will play giving you the needed guitar and drum background to solo over.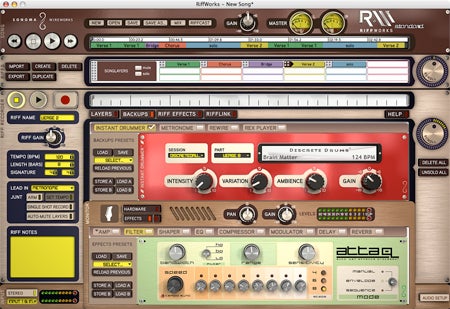 To build your song, you just drag the riffs to the song timeline. The great thing about RiffWorks is that you can drag the riffs into the song in any order you like. This makes the song highly configurable and very easy to manage.
Because RiffWorks is based on self-contained riffs, you can go back and make changes to the riffs at any time. So, if you decide after your song is built that you really wanted a nice screaming lick half way through your Verse, you can go back and do that without messing everything else up.
After that, if you want to change an existing riff, you click on it and go to the layers section; there you will see the different layers (or takes) that you have recorded for this riff. You can record the entire riff again including your screaming lick or you can let the first take play and record the lick in a second take, where you want it.
Now, when the song plays the riff, it will play the layers you chose in the layers tab. This means that you can have multiple takes and be able to choose the ones you want — just remember to mute the ones you don't want to hear.
You can use your existing interface to record your guitar in RiffWorks (I used my Digitech GNX4 ) or you can use a clean channel and use RiffWorks' built-in effects. The application is also compatible with Audio Units, so if you have Guitar Rig or AmpliTube, you can use those as well.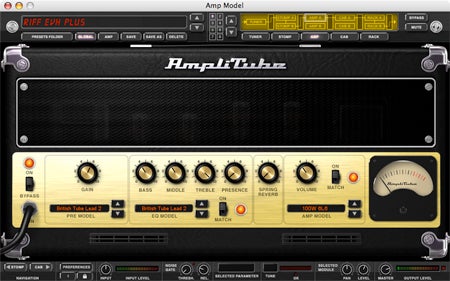 RiffWorks, which is priced at $169, is a brilliant application that is a must-have in my collection of music applications. With built-in effects, support for Audio Units and its built-in drummer, RiffWorks has everything you need to create killer songs.