Most designers who've been in the business for any amount of time usually have at least a small library of Communication Arts and Print magazines, a drawer filled with cool direct mail pieces and brochures and other nifty ideas that they use for inspiration. And then there's that pile of sketch books on the floor in the corner that contains every award-winning idea you've come up with in the last year or two.
The problem is that those magazines bend your office shelves to the near breaking point, the drawer gets overstuffed with collateral material to the point where you can't open the drawer anymore, and the sketch books are just too hard to find what you were looking for: these mechanisms often too difficult to use as a true idea library for many of us.
Thankfully, there are applications you can run on your Mac that not only store your ideas and inspiration, but make it easy to categorize and search later on. Yojimbo by Bare Bones Software, makers of BBEdit, is one that I've been using with great success.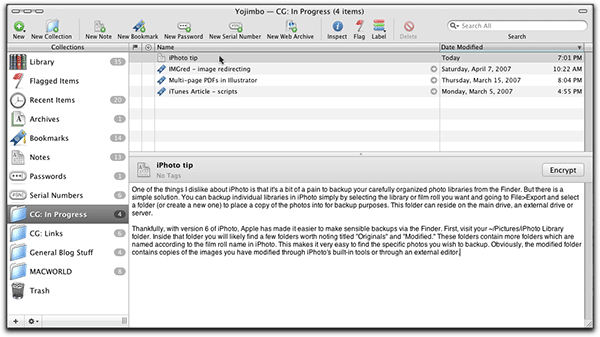 I use Yojimbo to keep track of all the passwords for the various sites I visit and of serial numbers for applications I've purchased online. But I use Yojimbo mostly as an "idea library" for all my design work, topics for articles, cool Web sites to reference, image collections, screenshots, and more. Essentially, it's a library of what's on my mind at any given point in time.
Yojimbo can handle all kinds of file formats, including JPG, TIFF, Photoshop, PDF, Encapsulated PostScript, MP3, QuickTime movies, RTF and text, so I'm pretty much covered no matter what type of file I want to drag into it for storing. Virtually anything I can get onto my computer can be stored in the Yojimbo database. Yojimbo plugs into Mac OS X Services, which means that you can quickly export many types of data directly from almost any application, and it installs a Save PDF to Yojimbo option in the Print dialog box, so anything you can print can also be saved into your Yojimbo library.
Organizing the ideas is simple. Yojimbo has a few built-in "collection" types, including Web archives, passwords, serial numbers, notes and bookmarks. But you can create any number of custom folder collections you wish to categorize your ideas, and give them custom labels and icons to help you find them easier.
You could have a collection titled "Color Combinations" which contains PDFs, screenshots, bookmarks of Web sites and text notes about work you like because of the colors used. Another collection can be created to hold nothing but clever headlines you've jotted down but just haven't found a use for. I have folders set up to store ideas for my articles for my blog, future Macworld articles, links to Web sites I haven't had time to look at and more.
The best part is that no matter what type of file, note or collection you're looking for, Yojimbo makes it easy to find when you need to. You can tag all your entries with custom tags, and search by title, content, tags or labels.
Some people just aren't organized, and many designers even less so (I know plenty of you are, so save the letters, please!). Yojimbo offers you the concept of a library, but puts it in your computer rather than shelves in the corner of the office. I like it because I can jot my ideas down quickly while the idea is fresh; I don't have to worry about where I put it, or get caught up too much into fleshing it out.
Yojimbo is a Universal Binary application and runs on Mac OS X 10.4.3 or higher. Having a .Mac account also gives you the option of syncing your data between computers. In a nice touch, a license for Yojimbo allows one user to install the application on as many of your Macs as you see fit, so if you have two desktops and a laptop, you're still only paying $39 for the single-user license. A family pack and education licenses is also available.
I have only two complaints about Yojimbo. The Bare Bones Web site does little to show off Yojimbo's impressive features—while it certainly fits the "bare bones" concept, they could sell it more. And second, they really need to contact Dave Lanham and have him design a better icon!
There are other applications available to create your digital idea library. Chronos SOHO Notes, formerly StickyBrain, is the heavyweight champ of this type of application, but I've found it to be overkill for my needs, and somewhat sluggish as well. DevonThink is quite powerful, but, in my opinion, its organizational structure makes it less straightforward and harder to use than the other programs. And while the personal edition is priced the same as Yojimbo, it has quite a few limitations, which you can only get past by moving up to the $80 Pro edition.
If you're not sure if the digital idea library concept is for you, and you want to test the waters, you can give XPad a shot. It is like a stripped-down version of the other apps, but it's absolutely free.
[James Dempsey runs the Creative Guy blog, which offers tips, tricks and opinion on a variety of design topics.]