Apple on Wednesday reported a $770 million profit for the fiscal 2007 second quarter on $5.26 billion in revenue. The profit worked out to $.87 per diluted share. These results compare to revenue of $4.36 billion and net quarterly profit of $410 million, or $.47 per diluted share, in the year-ago quarter.
The company shipped 1,517,000 Macs and 10,549,000 iPods during the quarter, representing 36 percent growth in Macs and 24 percent growth in iPods over the year-ago quarter. International sales accounted for 43 percent of the quarter's revenue, according to Apple.
"The Mac is clearly gaining market share, with sales growing 36 percent — more than three times the industry growth rate," said Steve Jobs, Apple's CEO in a prepared statement.
Jobs also gave a hint to the release date of the iPhone in his statement as he said the company was excited by its launch in "late June."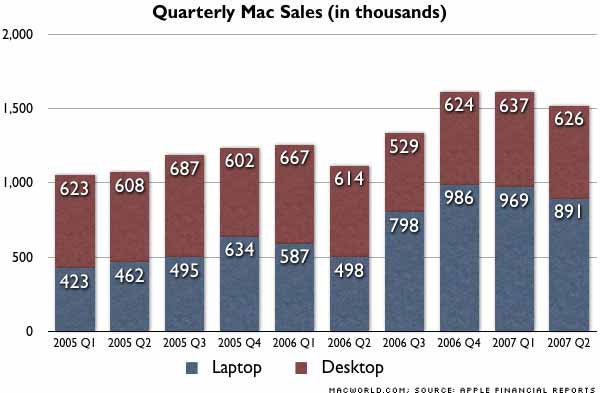 Looking ahead to the fiscal third quarter, Apple CFO Peter Oppenheimer said he expects revenue of $5.1 billion and earnings per diluted share of about $.66.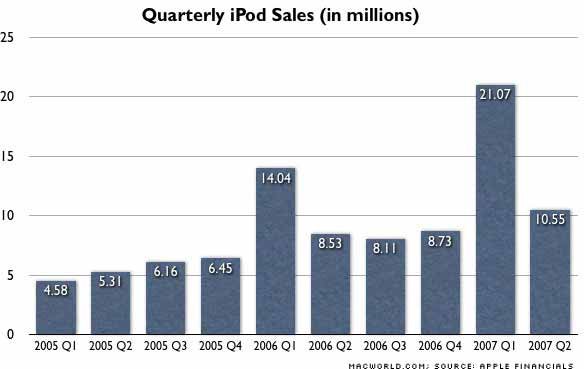 Apple stock closed at $95.348 on the Nasdaq, up $2.108 or 2.26 percent. In after hours trading the company has fallen marginally to $95.28, down $.068 or 0.07 percent.
Updated at 4:44 p.m. PT to add Mac and iPod sales charts.