This week, I'm in San Jose, at the tenth annual Art Directors Master Class, an intensive three-day workshop for designers, photographers and artists headed by Adobe Creative Director Russell Brown and the Van Heyst Group. The theme of this year's conference is pirates, and we're using Adobe's new Creative Suite 3 to build such things as interactive treasure maps and our own plastic pirate action figure.
For me, the highlight of the week so far—and there have been many—has been a presentation from Ina Saltz, author of Body Type: Intimate Messages Etched in Flesh , a fascinating and unusual new book of photographs that will appeal to typophiles everywhere.
Saltz is a designer, art director, and an associate professor of electronic design and multimedia at the City College of New York. She is also obsessed with the world of "typographic" tattoos, the result of a serendipitous bus ride and a man with the word 'happy' tattooed on his arm. What made that tattoo stand out to Saltz was the fact that it used an "appropriately kerned" version of Helvetica. She took a photo of that tattoo, and discovered that there was a whole class of tattoos that were created with typography specifically in mind.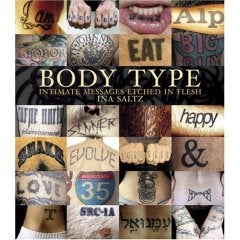 It's not just a photo book, although the photos are the main attraction. Saltz includes many of the stories—some sad, some uplifting—attached to the creation of many of the tattoos, and she sheds light on different categories of presentation, as well as unique glyphs and rare typefaces. Many of the letterforms shown are stunning in their beauty, and the thought that went into their design can change your preconceived notions of tattoos and the people who get them (something Saltz herself said happened to her as she worked on this project). If you're squeamish, though, be warned that some of the images—and their location—won't change your mind about anything, although I didn't find any images that would truly be considered obscene.
If you love typography, Body Type is worth a look, and is priced very reasonably at $20. You can also view some of the photographs from the book at www.bodytypebook.com.