It's been almost two years since Sling Media, the makers of the Slingbox place-shifting video device, announced that they intended to make a Mac version. I caught my first glimpse of the SlingPlayer software running on a Mac in early 2006 at Macworld Expo. But although Sling Media said they were targeting spring 2006 for arrival of their Mac player, the release of Intel Macs slowed the pace.
It wasn't until July of last year that Sling announced its private Mac Beta program, a program that began in earnest late last summer. And around about Halloween, the first public beta of SlingPlayer for Mac arrived. And while I danced a jig at its arrival, it was most definitely the product of a company that knew a lot more about Windows than about the Mac.
That initial version was a faithful port of the Windows version of SlingPlayer. Last spring I bought a Slingbox in anticipation of the Mac software's arrival, and then spent many months watching baseball games on Windows PCs and, later, on my Mac via Parallels Desktop. The beta Mac player, when it arrived, looked much the same as the PC player I'd been using, right down to the Windows-style window controls in the menu bar. In short, it worked, but it wasn't pretty.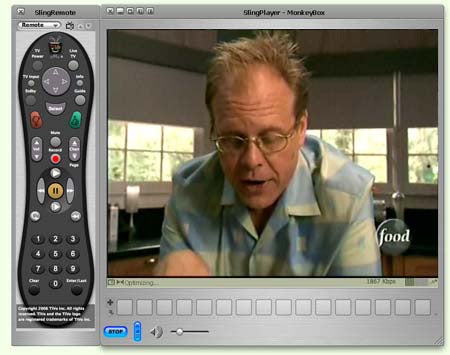 Monday, the final version of SlingPlayer for Mac was released, and users of the beta version will realize that it's a radically different product from the most recent public beta.
For the past couple of months I've been testing this new, remixed (yet still "1.0") version of SlingPlayer for Mac. The behind-the-scenes skinny is, Sling Media hired some people who previously were Apple engineers, people with deep knowledge about how a Mac-native application should behave. Here's a clue for the clueless — big "X" icons on your windows do not a good Mac interface make.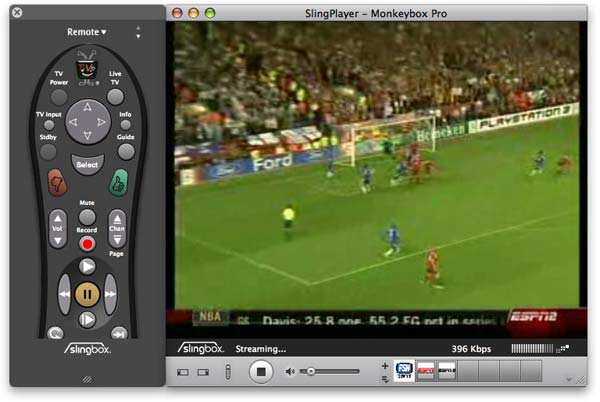 In any event, the infusion of ex-Apple talent is evident throughout the SlingPlayer interface. If you're not familiar with Slingbox, it's a hardware device that lets you watch whatever is on your home TV set from anywhere else in the world, so long as you've got an Internet connection. So for example, this weekend I was able to watch the local broadcast of a San Francisco Giants baseball game this weekend while at my in-laws' house in Los Angeles.
The new SlingPlayer interface will be familiar, as it should be: it resembles the QuickTime Player, with a large play/stop button and a volume slider. The Remote palette, which lets you control your home DVR and other devices, has a transparent floating appearance similar to palettes in iLife and Final Cut Pro. Even the Preferences window has been reworked to behave like you'd expect from Mac software. (Also new in this version: support for more devices, including the Apple TV.)
I've really enjoyed using my Slingbox, and the final version of the Mac player is a pleasure to use. Stay tuned for a full review in a little while, after I've had more time to put the new SlingPlayer and SlingBox Pro through their paces.
In the meantime, if you have questions about Slingbox or SlingPlayer, I'd be happy to answer them. Go ahead and leave them in the comments thread attached to this story.