It was harder to tell what the bigger story was to come out of this week's open letter from Steve Jobs outlining Apple's environmental policies—the company's plans for removing toxic chemicals from its products or the fact that a company that's normally tight-lipped about future product releases would tip its hands to show specific details about upcoming-though-unannounced products.
While describing Apple's current recycling efforts and outlining plans to expand its iPod take-back program while eliminating or reducing the use of chemicals such as arsenic, mercury, and brominated flame retardants, Jobs offered a peek into the future: Apple plans to introduce Macs with LED backlight technology in 2007. The LED backlights would replace the fluorescent lamps currently behind the LCD displays in Apple's product line.
What will the switch mean? For Apple, it will remove mercury from the company's displays. According to Jobs, mercury and arsenic are industry-standard materials used in LCDs; the former is used in the fluorescent lamps to brighten LCDs, while the latter is added to prevent defects in the glass used in such monitors. Those chemicals pose a threat to the environment, particularly as users dispose of products containing them.
Apple plans to use arsenic-free glass in displays this year. (The company says a small number of integrated circuits will continue to "contain a minute amount of arsenic," which is an element of the semiconductor substrate.) Switching to light-emitting diode, or LED, backlights would eliminate mercury from the displays.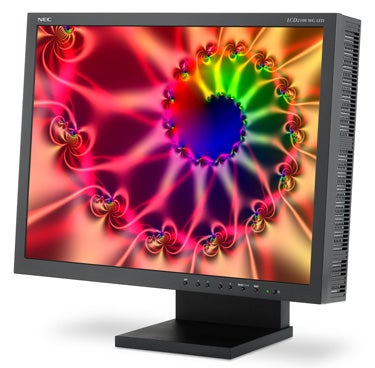 NEC's LCD2180WG-LED display
Apple has actually used LED backlights in its iPod line for some time now. And other hardware makers have incorporated LED-backlit displays into their offerings. NEC, for one, has been selling a 21.3-inch desktop model for a couple of years now—the LCD2180WG-LED. This NEC display uses an array of 48 LEDs in three colors—red, green, and blue—combining them to emit white light. By doing so, NEC claims it can increase the color gamut of its displays dramatically, with the ability to reproduce 109-percent of the Adobe RGB color space.
NEC also contends that the LEDs will last much longer than fluorescent backlights, increasing display life from today's typical 25,000 hours to 50,000 hours. Another nice feature of LEDs, especially for mobile users, is their lower power requirements, which could translate to longer battery life.
One thing I noticed, however, when seeing the NEC up close, was how much thicker the display was. It appeared to be an extra inch or two deep—although that might not make much of a difference sitting on a desk.
Interestingly, both Sony and Asus have started shipping super-thin sub-notebook models featuring an 11.1-inch LED backlit LCD. My guess is that, without needing to hit the same level of professional color quality that NEC's desktop monitor does, those companies are using a much smaller array of white-only LEDs, eliminating the need for the extra space required to combine the three colors of the backlight.
There is a downside to the longer display life, lower power requirements, and other benefits of LED backlights—price. The cost of NEC's LCD2180WG-LED—$3,800, down from about $6,000 when it was first introduced—is more than twice that of its fluorescently-lit counterpart.
And that is likely to impact how Apple implements LED-backlit technology into its displays, especially since Jobs' open letter says the transition will take place "when technically and economically feasible." Given those parameters, it seems like an LED-lit laptop would be the likely first step for this new technology; Apple would be able to implement it more easily and cost-effectively than with, say, a massive 30-inch Cinema Display.
Keep in mind, though, that's just speculation—Apple hasn't announced any specific product plans just yet. The company may be willing to disclose more about upcoming products to promote its environmental agenda, but it hasn't become completely loose-lipped just yet.
[ James Galbraith is Macworld Lab Director. ]