At a Glance
Expert's Rating
Pros
Beautiful graphics and sound
Unusual puzzle-oriented gameplay with engaging story
Cons
Full screen mode messes with window position in other apps
Items lack variety after a while
Interface is occasionally frustrating, not challenging
Our Verdict
One of my kids' favorite pastimes when we go to the ocean is to find interesting things on the beach—shells, rocks, and beach glass that's been worn smooth by constant tumbling over sand. It's addictive; hardly a trip occurs where we don't come home with a bucket of bounty from the sea. That was the inspiration for Playfirst's Mystery of Shark Island, and it's a really lovely low-key diversion when you're looking for a fun and challenging visual puzzle game.
The game features a story line where you're an island castaway. You've awakened on the beach with a broken arm, next to a stone box engraved with an set of odd carvings. As the ocean waves lap at the beach they bring all sorts of material from water—fragments of shells, stones, driftwood, seahorses, sea urchins, and more.
With each wave, the box opens and reveals the items it wants you to find. It's up to you to find them in time—as soon as the door opens, a timer begins to count down. You simply need to click on the right object. You can dust the sand away by moving your cursor over obscured objects, and occasionally large objects such as rocks will obscure items, as well. You can move them aside and look closely for the items on your list—everything from sea horses to sand dollars, along with fragments of statues that you slowly piece together.
As you successfully complete your tasks, you're given keys which, when joined together inside of a stone door and rotated correctly, reveal a portal you must step through. You're then transported to a different island in the archipelago, where you have to continue your quest. Along the way, you begin to feel much better—unnaturally so—and you begin to hear voices. Therein lies the Mystery of Shark Island.
With each progressive level, the quantity of items change—sometimes it's just three or four objects, sometimes it's more—and so does the amount of stuff on the beach that obscures your view. A timer keeps you on a deadline, too, so you can't dawdle. Many of the items are partially or totally obscured—they might have landed underneath a stone you have to move, or they might be covered with sand. (You'll see the shape and more muted colors, but you'll have to brush it clear before you can pick it up.)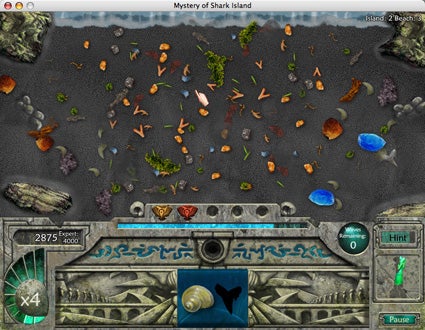 She Sells Seashells by the Sea Shore You comb through lots of beach detritus—shell fragments, stones, driftwood, and washed-up critters—to solve puzzles in Mystery of Shark Island.
Herein lies one of my complaints with this game: As you're on a clock for each level, I really disliked having to brush stuff off that I knew I'd have to pick up anyway. Seemed like a bit of a waste of time, and it cut into the precious seconds I had to locate objects. (That time grows shorter as the game's difficulty level increases.
The trick to progressing through each level is to chain the number of items you pick up—you're rewarded by increasing a point multiplier attached to the value of each object you collect, and there's a specific goal you need to reach in order to get to the next key.
You're not penalized with a point deduction for picking up a rock or shell fragment for example, but you will lose the multiplier, which might make it harder to reach your level goal. That might mean having to replay the level, which means that you'll need to sift through five waves on a beach looking for objects.
I found the point-and-click interface to be intuitive, but because so much of the gameplay is based in recognizing objects from junk, it's also unforgiving. I'd occasionally lose my chaining bonus if I clicked on something I didn't even see, such as seaweed covering a rock that I'd have to move to get at a shell underneath.
The variety of the objects you have to locate is big at the beginning of the game, but tapers off mid-way through. As a result, you can burn through some levels just by looking at the beach and separating whole shells, for example, from shell fragments.
You can restart where you left off, and Mystery of Shark Island also has an "Arcade" mode that eschews the storyline for pure object-finding play. (You can visit any of the beaches you've already reached in the Story mode, and you're granted a limited number of chances to find what's on the beach in the allotted time).
As a result, Mystery of Shark Island is equally well suited to play for just a few minutes or for a couple of hours. It's quite addictive, albeit occasionally frustrating.
There are powerups that will help you along the way—coins that you'll see on the beach that, when touched, do something for that particular level. One might improve your brushing speed or the speed at which you can raise rocks; another will reset the timer.
Mystery of Shark Island has the usual settings I've grown to expect in games, such as independent volume and sound effects control and a setting to switch between windowed and full screen. Depending on the resolution of your display, however, windowed mode may be too small to see the shapes on the beach very effectively. And full screen mode messed with the window positions and dimensions of other applications that were running, even if I'd hidden them first.
There's no ESRB rating, but I wouldn't hesitate to recommend this to families—it might even have a bit of educational value, helping develop shape recognition skills and all.
The bottom line
Mystery of Shark Island has a couple of flaws that make the game more frustrating than challenging, but it's a very addictive game that will test your visual acuity and make you feel like you've spent the day at the beach.