Laptops are subject to far more abuse than desktop Macs. Dirt, dust, and scratches keep them from looking new for long. But that doesn't mean you're stuck with smudges, stains, and scrapes. Here's how to make your Mac laptop look good again—and how to then keep it that way.
Clean that screen
If your screen is like most, it's a magnet for dust and fingerprints (or if you've got small children in the house, handprints). If you're tempted to just spray some Windex on it and wipe it down with a paper towel, don't. This is a delicate LCD panel, which requires a bit more care. Here's a better approach:
1. Turn off your laptop.
2. Ideally, use an ammonia- and alcohol-free cleaning solution made for LCD screens, such as RadTech's OmniCleanz ($10 to $15) or Meridew Enterprises' iKlear Apple Polish Cleaning Kit ($25, including a travel kit and an extra-large bottle). (In a pinch, you can mix your own solution of one part isopropyl alcohol and one part distilled water.)
3. Use a clean, soft, lint-free cloth; paper products or rough fabrics can scratch your screen. The RadTech and iKlear packages each include a small cleaning cloth specifically made for LCDs. (I prefer the RadTech rag.)
4. Spray your cleaning solution on the cloth, not the screen; this keeps the liquid from dripping into the screen's casing.
5. Place a towel or another soft fabric on a flat table, and then lay the back of your laptop's screen on the fabric, holding the laptop's body up with one hand. With the other hand, use the dampened cloth to wipe your laptop screen, gently, in a circular motion. This keeps the screen stationary and reduces the risk that you'll damage it during cleaning. Don't worry about absorbing all the liquid; small streaks should evaporate on their own.
Keys to a clean keyboard
The keyboard is the grimiest part of any computer. (The keyboard can also be a health hazard; see this news report from the BBC.) Unfortunately, it's also the most difficult part of a computer to clean; there are just so many places for dirt, dust, and hair to hide. Although it's impossible to get a laptop keyboard as clean as it was when it was new, there are a couple of things you can do to freshen it up.
First, you can get a good deal of the crud out of a keyboard by using good old compressed air; most electronics stores sell cans of Dust-Off, by Falcon Safety Products, for a few dollars each. Hold the can's nozzle close to the keyboard surface and then blow air acros s the keyboard, along the horizontal spaces between rows of keys. Be sure to keep the can upright; tilting it risks expelling the can's contents in (potentially dangerous) liquid form.
Second, you can wipe down the surfaces of your keys with a soft cloth and a solution like the one you used to clean your screen; again, dampen the cloth, not the keys. Although it's best to do this when your laptop is turned off, you can also use Jan Lehnardt's free Keyboard Cleaner utility ( ) to temporarily disable the keyboard during cleaning. (Once you've cleaned your keyboard—or before you use a new one—you might want to consider a way to keep dirt out; see "A Little Protection.")
Time for a face-lift
If you've got a white iBook or MacBook, there's a good chance that the outside has picked up a number of scratches. You can remove many of these scratches by using scratch-removal kits for iPods.
My two favorites are RadTech's $21 Ice Creme and DLO's $30 Care Kit for iPod. Both include polishing cloths, one solution for removing larger scratches, and another solu-tion for removing smaller scratches and refinishing the surface after you use the larger-scratch solution. The DLO kit also includes a general cleaning solution, but I think RadTech's Optex polishing cloth is a more-useful extra. However, you should use these kits only if you've got significant scratching; since they work by buff-ing out scratches, they can leave very small blemishes—such as tiny surface swirls—of their own.
Unfortunately, owners of metal PowerBooks and MacBook Pros can't use these kits—the finishes on these systems aren't polish-friendly. TiPaint's Pro-TiPaint, for Titanium PowerBooks, and Conceal, for aluminum PowerBooks and MacBook Pros (each $20), can touch up major scratches and gashes, although smaller blemishes and hairline scratches aren't good touch-up candidates. The matte finish on black MacBooks is even more limiting (or liberating, depending on your point of view); aside from wiping it down with a damp cloth once in a while, there's not much you can do to keep it looking good (except to protect it; see "Beauty Is Skin Deep").
If your notebook is scratched and scuffed beyond aesthetic repair, maybe it's time for a fresh start. ColorWare will give your Mac laptop a custom paint job in one of 28 colors ($399 to $449, plus options). Similarly, Etchamac can laser-engrave a design onto your aluminum-case laptop, hiding scratches and making your notebook look stylin' at the same time (prices vary).
Finally, if you've got a white MacBook that's looking grungy, it might be more than a hygiene issue. Apple has identified a problem that results in significant discoloration of the palmrest area on a small number of early white MacBooks. You can contact AppleCare about a replacement for that section of your MacBook's shell.
Laptop Cleaners: The iKlear Apple Polish Cleaning Kit (left) is a complete system for cleaning your laptop's screen. DLO's Care Kit for iPod (right) does the same thing for your music player or white laptop.
Beauty is skin deep
It's tough to keep the outside of your laptop scratch- and dirt-free. Sleeves and cases help, but you still have to use your laptop once in a while, right? If you're the meticulous type, an always-on shell can protect your computer from scrapes and minor dings without adding a lot of bulk—and allow you to use your portable without removing the shell. Speck's SeeThru Hard Shell ( ; $50) completely encases your MacBook or MacBook Pro in a sturdy layer of clear, blue, or red polycarbonate. For a more luxurious feel, Case-Mate's Signature Suit ($150) covers your MacBook or MacBook Pro in various combinations of red (pictured), green, white, and black leather. And RhinoSkin's $60 Hardcase is a hard plastic shell for your MacBook that provides extra storage: a clip-on accessory box holds your AC adapter and cables.
A little protection
Given the cost of a typical laptop, and how much abuse it will take over its lifetime, the fact that few people take steps to protect their laptops beyond a simple carrying case is surprising. You can actually give your laptop the equivalent of a suit of armor—or at least parts of one—without sacrificing usability.
Power Support's Antiglare Film and Crystal Film A ($24 to $42) are clear protective films that keep scratches and dirt away from your laptop's screen. The Antiglare version reduces glare from sun and fluorescent light; Power Support claims that the Crystal version produces more-vibrant colors.
To keep dirt, hair, liquid, and other stuff out of your keyboard, consider a cover. iSkin's ProTouch Keyboard Protector B ($25), Macessity's Keyboard Shield ($20), and zCover's typeOn Keyboard Skin ($20) are thin silicone keyboard covers that not only keep the nasty stuff out but also make your notebook's keyboard quieter—a nice bonus for late-night typing. All are easily removable and washable, and all are surprisingly unobtrusive—it doesn't feel as though you're typing through a thick slab of rubber.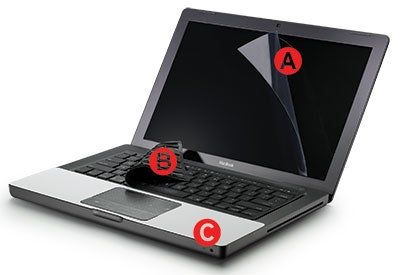 Finally, you can keep dirt—and wristwatch-induced scratches—away from your laptop's palmrest with one of several protective products. Power Support's Wrist Rug ($20 to $25, including trackpad protection), Marware's Protection Pack ($20 to $23, including fabric keyboard cover), and Moshi's PalmGuard C ($20, including trackpad protection) are full-width, adhesive coverings. AVA's two-piece padded Softpads ( ; $15) are unique in that they also make the MacBook's sharp palmrest edges more comfortable.
[ Dan Frakes is a senior editor at Macworld and the senior reviews editor at Playlistmag.com. He's a frequent contributor to Macworld.com's Mobile Mac blog. ]