I'm a bit of an Apple TV fan. Long before the Apple TV actually existed, I wanted one. I didn't know what to call it or even quite what its features would be, but I knew I wanted an Apple product that would take all the stuff on my computer — videos, music, pictures, you name it — and make it available in my living room via an easy, remote-control-driven interface.
Now we know the name of that product: Apple TV. And after just a few weeks with it, I decided I liked it a whole bunch.
On a completely unrelated note, in the past year Macworld has begun publishing a series of books called Superguides, available in PDF format, as full-color books, or even on CD-ROM.
You may see where I'm going here: I'm happy to announce the Macworld Apple TV Superguide , a 57-page book designed to help Apple TV users get the most out of their new purchase.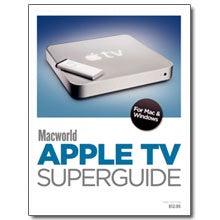 The book is packed with information. I'd suggest that it's the manual that Apple should've put in the Apple TV box, but that concept's taken. Still, that's the basic point of our Apple TV Superguide: in its pages you'll find step-by-step instructions for hooking Apple TV up to your entertainment center, connecting to a home network, and getting content from your computer to the Apple TV's hard drive. The book will also give you a detailed tour of the Apple TV's menus, not only highlighting the most important features, but also pointing out hidden settings.
Once your Apple TV is set up to your liking, the book will show you how to employ smart strategies for taking control of your media library. It explains how to convert video files — including your own DVDs — into Apple TV-compatible formats. You'll also get vital troubleshooting advice and an illustrated guide to upgrading the Apple TV's internal hard drive. We've even made sure that the book, like the Apple TV itself, is cross-platform, so Apple TV users on PCs won't be left out in the cold.
The book was edited by our own ace senior editor Kelly Turner, and features contributions from the usual constellation of star Macworld writers: Christopher Breen, Dan Frakes, Glenn Fleishman, Jonathan Seff, Derrick Story, not to mention your own humble correspondent.
The Apple TV Superguide is available in three formats: PDF for $12.95, printed book for $19.95, and as a PDF on CD-ROM for $15.
If you'd like to see more before deciding to buy, we've created a 12-page sample PDF (480K) for you to look at. And when you decide to take the plunge, you can see all the purchasing options via the book's main page.