At a Glance
Expert's Rating
Pros
Status and label markers show document states
Full-screen mode provides for distraction-free writing
Powerful project management functions
Many display options
Interface provides a quick overview of multi-file writing projects
Cons
Text-only file format limits formatting options
A bit pricey
Our Verdict
Creative writers often don't need many of the features found in today's word processors, but writing fiction or non-fiction can require organizational tools that word processors don't offer. Ulysses 1.5 combines the simplicity of a text editor with powerful project management functions to be a writing tool for creative writers. Ulysses creates projects, which are bundles containing one or several documents. Each document can contain text and notes; the Ulysses window separates these two parts of the file, displaying the main text in the center and the notes at the right. You can open multiple documents and switch between them with a single click of their tabs; you can also re-order the tabs.
A project can contain as many documents as you'd like, and Ulysses lists them in the document browser at the left of its window. The browser has three sections. The top section shows all the documents in your project. Click on one of these, and the second section gives you a preview of the document; the bottom section shows any notes attached to that document. Double-click a document to open it in a tab in the central part of the window and start writing or editing.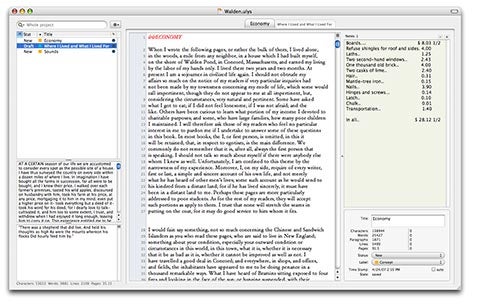 Since Ulysses' files are text only, they contain no formatting, but the program lets you use specific characters to set off three levels of headers or paragraphs. You can't format text at all, but you can use codes to indicate different styles, such as bold or italic, which will be applied when you export your project. Ulysses has powerful export features that let you save your files as PDF, plain text, RTF, or Word documents, in one file or many, with a fair amount of control over the styles used in the exported documents. But the lack of formatting may be a deal-breaker for writers who want to use such formatting to indicate words, sentences, or sections they want to revise or change.
Ulysses also offers a full-screen mode, where you see nothing on your screen but the text you type: no title bar, no menu bar, and no window widgets. Full-screen mode is like looking at nothing but a page; it is the best way to work when you want no distractions. The program's preferences offer several display options for full-screen mode: you can choose a font, its size, a background color, and text width in pixels.
Ulysses also has excellent organizational tools. The program's browser offers several ways to organize your files: you can set the status of your documents, add colored labels to help organize them, and sort the browser by status, label, or title. You can also use Ulysses' search field (like the search field in the Finder) to filter documents, and you can even create smart filters, similar to the Finder's smart folders.
A control panel at the bottom right of the application's window lets you keep an eye on document statistics, change document titles, set file status (to new, draft, or done) and apply custom labels with colored icons to indicate document types. Finally, Ulysses packages are Spotlight-searchable, so you'll be able to scour your writings and find text easily.
While Ulysses is a great tool for creative writers, some may not like certain choices the program imposes. The use of unformatted text might annoy, and may even be a problem for some writers. Not only can you not use character formatting, but you cannot justify text. Ulysses also limits display to a single font and size; writers who want to use different character styles to set various sections of text will not be able to do so. However, the program has a wide range of display options to help compensate for some of these limitations.
Macworld's buying advice
Ulysses 1.5 may seem surprising to those writers who are used to working with full-featured word processors, tools designed as much for layout as for writing. The best way to look at this program is through the eyes of creative writers and journalists, those who work with text alone and don't necessarily need any kind of formatting. Its price may also throw some people; at €80, or about $105, it seems expensive when compared to similar programs available for the Mac. But Ulysses is a fine, mature program, with a rich feature set.
[ Kirk McElhearn writes more than just computer books and articles. His blog, Kirkville, talks about Macs, iPods, and much more .]