After a few weeks of using InDesign CS3, here are a few of my thoughts for those of you still waiting to see how the upgrade game plays out:
First the good. InDesign CS3 is really quite fast. Adobe also has greatly improved the interface, which I consider nearly as important as the things the application can do. (After all, it's what you use to create the files.) And finally, they've added some great features.
On the flip side, InDesign CS3 needs some creative adjustments in order to run at the speed you would expect. It also suffers from some interface shortcomings, and is missing some features that have repeatedly caused me to shake my head.
Since I'm running a MacPro with 3GB of RAM, I expected the speed of InDesign CS3 to register somewhere near "blazing." Unfortunately, this was something I could only accomplish after playing with the preferences and related settings, but once I did, I was pretty happy.
For starters, that nifty new feature of showing thumbnails in the Pages Panel…it's a dog. Working on a book of 30-plus pages—with graphics on each page—made scrolling through the Pages Panel excruciatingly slow. Frankly, after trying to put up with the speed, I came to the conclusion that having the thumbnails was of no value because they're too small to see anything unless you set the size to be huge, at which time the entire Panel becomes useless because you can only see a few pages without scrolling. Setting the icons to no thumbnails and sized small fixed things right up.
It's not too terribly difficult to find other minor adjustments that will speed things up with just a little bit of playing around either. For example, turning off font menu previews (Preferences -> Type) went a long way in speeding up the font selection process, but only when I selected Type -> Font from the menu. This approach is quite slow the first time you bring it up and isn't exactly fast when you're scrolling through a long font list, but turning previews off definitely helps. Strangely, selecting the font menu from the Control Panel was much faster even though it also showed font previews. Go figure.
A "smarter" Control Panel
The updated Control Panel (formerly known as the Control Bar) is a huge feature addition for me. When dealing with text, I always hated having to click a button to switch back and forth between the Text and Paragraph Control Bar with InDesign CS2. Having all the text options showing at once in CS3 is an answered prayer.
Also, when I was working with the Selection tools, it brought a smile to my face to have all the options from the Align, Text Wrap and Tables palettes from CS2 available in the Control Panel. Throw in the fact that you can quickly apply drop shadows and other effects—including adjusting transparency—all without opening a single panel (which is what the palettes are now called, by the way), and the power of the new Control Panel is readily apparent.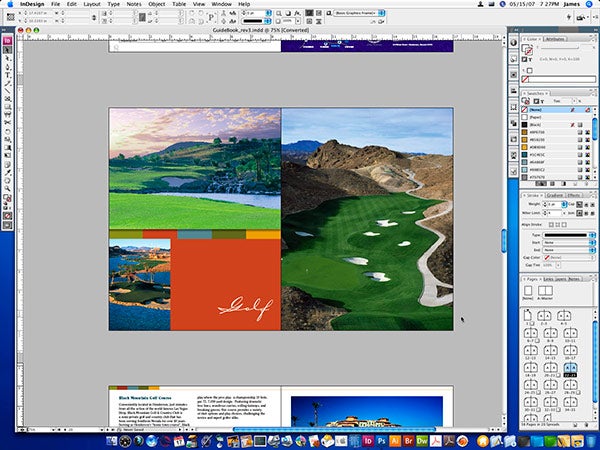 Speaking of panels, there sure are a lot of them now. Of course, Adobe has always designed palette-happy applications, and CS3 kind of makes dealing with them a bit easier. I like the new docked panel mode, but I'm left wondering why Adobe hasn't made them so that simply moving the mouse over them opens them up, and moving the mouse away closes them. I found myself doing an awful lot of clicking when I kept the panels docked in icon mode. Instead I've kept the most used ones, such as the Color, Swatches, Pages and Links panels fully open, and the secondary ones like Pathfinder, Object Styles, and Separations Preview docked in icon mode (see the image above). Perhaps over time, as I have the panels and their options imprinted upon my brain, I'll see the wisdom of Adobe's approach.
The export and printing enhancements are welcome additions. You can now export to the PDF/X4 format. In short, the PDF/X4 format allows for transparency to be contained in the PDF file without flattening the transparency. If you don't know what that means, it's probably no big deal, but if you do, those around you are wondering why you are dancing in front of your Mac. And, for those of us who have longed for an easy way to print booklets on high-end printer/copier machines, the Print Booklet command in the File menu makes short work of this task, including settings for adjusting creep, signature size, stitch style, bleeds between pages and more. This feature was there before in the form of the InBooklet script, but I could never figure it out. Print Booklet makes it dead simple.
Whither LiveColor?
One thing I cannot figure out is why Adobe didn't build
Illustrator CS3's
fantastic new Live Color, Color Guide and color grouping features into InDesign. It seems to me that many designers spend a lot more time working inside their InDesign documents than they do Illustrator, so it would be nice to have those features included. Where is that CS4 wish-list page on Adobe.com?
I've only touched on a few things I felt worth mentioning, but you can read a lot more about it now that the suite is shipping and more designers and production managers have had the opportunity to play with it. I suggest starting with this excellent review of InDesign CS3 on Creativepro.com by Michael Murphy, host of the InDesigner video podcasts at InDesignSecrets.
With InDesign CS3, I would say Adobe has topped what they did with CS2, a tough task since that version was practically a new application on its own. The only thing that might keep you from using InDesign CS3 full-time in a production environment is the fact that some font management apps don't yet have auto-activation plug-ins available yet. (Insider Software recently announced that a CS3-compatible of FontAgent Pro will be available " later this spring." Extensis' Suitcase Fusion currently supports auto-activation with Illustrator CS3; further details are on the company's CS3 compatibility page.)
[James Dempsey runs the Creative Guy blog, which offers tips, tricks and opinion on a variety of design topics.]