Like my fellow Macworld scribes Dan Miller and Dan Frakes, I'm a huge fan of "launcher" applications— Butler in my case. However, not everyone finds launchers quite so appealing. Today's tip is for those who would rather not use a full-blown launcher application, but would like some of the benefits—the only requirement is that you be running OS X 10.4, as the tip relies on Spotlight.
As you probably know, you can launch applications and open documents by pressing Command-Space and then typing some of the letters in the program or document's name. Type Saf, for instance, and Safari will probably quickly show up as the top hit. While this works great for uniquely-named programs, things aren't quite so clear with documents, where you may have many with similar names. For instance, say you have copies of your company's business plan going back a few years, with two plans per year. You've named them for easy sorting in their folder, i.e. Business Plan – 1st Half 2005 , Business Plan – 2nd Half 2005 , etc. If you try to use Spotlight to open these documents, you may find that having all the copies of the plan in the results is a bit confusing. Enter Spotlight—or more specifically, Spotlight Comments. We touched on this subject back in the fall of 2005, but I felt it was worth bringing up again, for it's one of Spotlight's more powerful features.
Using Spotlight Comments, you can build your own indexing and filing system, which Spotlight will then add to its index. To see how it works, switch to the Finder and select any program or document you wish, then press Command-I (File -> Get Info). Near the top of the Info window, you'll see a box labeled Spotlight Comments. This is the key to your own home-built indexing system—any text you enter here will be added to Spotlight's index.
So if you open, for instance, QuickTime Player quite often, but don't want it taking up space in your Dock, add a Spotlight Comment to the application. Try to make your comment something unique, so that Spotlight will return only the one match you're looking for—in this case, perhaps qtpp. Within seconds of typing your abbreviation, Spotlight will have added that entry to its database. Press Command-Space, type qtpp, and you Spotlight should quickly find QuickTime Player: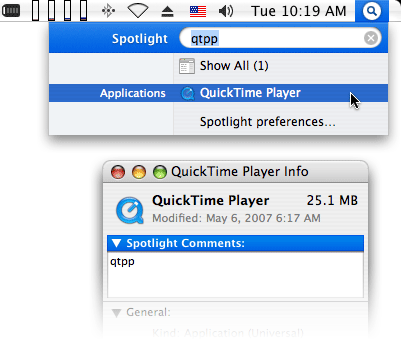 Of course, using this trick for application launching really isn't the best use of the Spotlight Comments box—Spotlight does a pretty good job of finding applications already (and any of the above-mentioned launchers will do a much better job at this than does Spotlight). Where this approach can be quite useful, however, is in lumping all project-related documents together into one set of Spotlight search results. Create a unique Spotlight comment for each project, then apply that comment to all files in the project. ( This hint explains how to use Automator to apply comments to many existing files, all at once.) For example, create a tag called bplan2H07prj, and apply it to all your 2007 second half business plan documents. You can then enter this phrase in Spotlight's search box, and you'll see all your business plan documents at once.
To make things even simpler, though, you can create a Smart Folder based on your Spotlight Comment entries, giving you super-fast access to the project files. In Finder, select File -> New Smart Folder. Set the location to be searched to Computer, and then select Other from the first pop-up menu. In the list that appears, scroll down to Spotlight Comment and select it. (Also check Add to Favorites if you'll be creating a lot of these; it will then appear in the main pop-up menu.) Click OK, then change the Contains pop-up to Is, and finally enter your Spotlight comment term in the blank text box. When you're done, it should look something like this: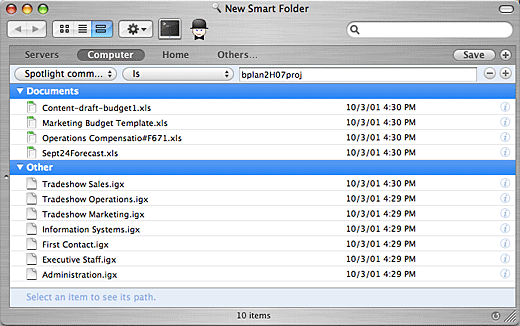 Finally, click the Save button to save your Smart Folder, give it a name, and pick a save location. Repeat this process (choosing new Spotlight comments each time, obviously) for all your different projects, and you'll have a library of quick-access folders showing all of the related files in one spot, regardless of their actual location on your hard drive.