I don't think Fabio Riccardi sleeps much: yesterday his company, Light Crafts, posted LightZone 3.0, which debuts mere months after the release of Version 2.0, and only a year and a half after Version 1.0 became available. The guy definitely burns the midnight oil.
LightZone is an editing, management and analysis tool for your digital images, one that the company claims brings an "intelligent," alternative approach to photo editing. This approach is focused less on using "buckets of numbers" to adjust images (i.e. what Photoshop makes you do, according to Fabio), and more on traditional photographic visualization tools like Ansel Adams' Zone System. As the rapid pace of version numbers indicates—and I can say that every primary update has had major improvements—Light Crafts is committed to producing a top-level application for photographers, whether they be film-based and scanning their images, or are using the latest digital cameras.
Version 3.0 includes a more streamlined user interface, a new Styles feature that applies preset enhancements to an image or group of images, stronger Raw-image editing functionality and more. It also has deeper image-management features than the last version; Light Crafts intends LightZone to be used by itself as an image editor and asset manager. (A lower-priced version, LightZone Basic, is available without the asset-management features, and is designed to be an external editor to a program like Apple's Aperture.)
I haven't yet had a chance to do much more than download the update and work on one or two images, so I can't comment on a lot: the interface improvements definitely make it easier to find your way into the program, the on-screen help also continues to improve in impressive ways, and the new Styles palette is quite nice (see the image below, on the left side), offering a solid range of toning and exposure options. As an asset manager, it's much more free-form than Lightroom or Aperture, but it seems to fit in well with the aesthetic that Light Crafts is after.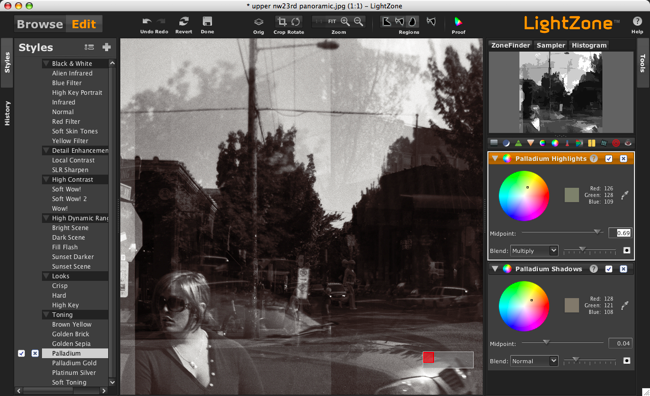 LightZone has its adherents—Uwe Steinmuller of Digital Outback Photo, for example, who just posted a quick first look of the new version—and it is clearly designed for the photographer who wants to focus less on filters and rubber stamps, and more on "developing" their digital negatives. I have always liked working with LightZone's ZoneMapper tool, and it has a very intuitive selection tool that makes it much easier for you to adjust portions of an image—something both Lightroom and Aperture currently lack, by the way.
LightZone 3.0 is priced at $250, and a 30-day, fully functional demo is available if you want to test it. Upgrades from previous versions start at $49. LightZone Basic isn't available yet, but should be in the coming weeks for $150. It's worth noting that a Linux-based version is available, too; Light Crafts being that rarity in the software world, offering an application for the three major operating system platforms (Mac OS X, Linux, and that Microsoft thing).