If you were a "classic" Mac user, you surely remember NotePad, the note-keeping application that shipped with the Mac OS for years. Although quite limited, it was popular with many people as a way to quickly enter simple notes.
If the results of a search on VersionTracker.com is any indication, virtual notepads are still quite popular. However, many of the options are more-advanced applications for note-taking, data-management, and outlining. In my online travels, I haven't found too many that are truly a modern equivalent for NotePad—something with an easy-to-use interface, a good feature set, and a low price. Garrett Murray's xPad 1.2.5 ( ) is one of the few, and as of the current version, it's now free. (James Dempsey mentioned xPad in a recent Creative Notes article.)
According to the developer, "xPad is a single solution replacement for Stickies, NotePad, Scrapbook and TextEdit." Although the latter claim might be a stretch, given TextEdit's advanced functionality in Tiger, xPad is indeed quite flexible. The latest version lets you create notes with full RTF support, paragraph formatting (including styles, tab stops, spacing, and lists), and character-level formatting. You can also perform non-contiguous selections—select some text in one part of a document, hold down the Command key, highlight text in another part of the document, and then perform actions on both selections.
But I'd expect those features from any "notepad" application these days. What I like about xPad is that, like NotePad, you can store multiple notes (referred to as documents in the interface), but, unlike NotePad, xPad gives you a number of useful organizational tools. For example, a Documents drawer gives you quick access to any note, and you can name and categorize each note and see the date each note was last modified. You can also sort notes by name, date, or category. An Info drawer shows the current note's name, category, creation and modification dates, as well as a word count.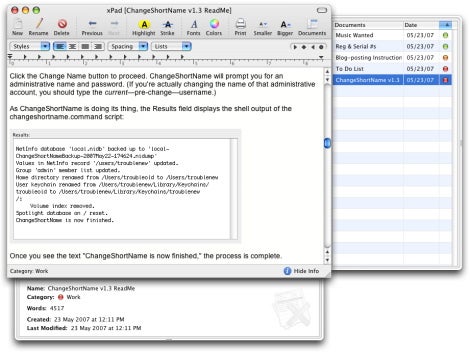 It's also easy to get content in and out of xPad. Of course, dragging an image or text clipping, or text from another app, into the xPad window inserts it into the current note, just as you'd expect from a Mac app. But dragging a text, RTF (rich text format), or RTFD (rich text format directory, basically an RTF file with enclosures such as images) file from the Finder into xPad imports that document as a new note; the original file remains untouched. Conversely, dragging a note from the Documents drawer to the Finder exports that note as a new RTF or text file; the format is determined by your selection in xPad's preferences. (You can instead use the Import and Export commands in the File menu, if you prefer that approach.)
You can also export xPad notes directly to the Notes feature of recent iPods. Make sure you've enabled—via iTunes—disk-use mode for your iPod; select the desired note(s) in the Documents drawer; and then right-click on any of those notes and choose Send To iPod name from the resulting contextual menu. The note(s) will be copied, in plain-text format, to the Notes feature on your iPod.
Another nice touch is an opacity setting that lets you see behind xPad's window while you're typing. And you can quickly switch to a particular xPad note from another application via xPad's Dock menu.
One drawback of xPad is a lack of Spotlight support; you can't search the contents of your xPad notes. I also found the Undo command to be a bit limited; for example, you can undo changes to text—typing or deleting, for example—but you can't undo certain formatting changes, such as highlighting or striking through text. Nor can you undo the action of deleting a note. Finally, when you switch from one note to another, you lose your "place"; the next time you switch back to the original note, the view, and the cursor, will be back at the top.
Still, these minor flaws don't change the fact that xPad is a considerable upgrade over the original NotePad and a nifty utility for those who don't need a powerful (and expensive) outliner or data-management app.
xPad 1.2.5 requires Mac OS X 10.2 or later, although more features are available in 10.3 and 10.4. xPad is a Universal binary.