Think back to 2002. Around the same time that Spiderman was battling the Green Goblin in that summer's blockbuster movie, Adobe produced Premiere 6.5 ( )—a release that turned out to be the last Mac-compatible version of its non-linear video editing application. Despite—or possibly because of—its longevity, Premiere had lost some ground to rival programs. Premiere appeared slow to innovate and almost reluctant to let go of its inelegant editing paradigm. At the same time, Apple's Final Cut Pro (spearheaded by one of Premiere's own creators) was the slick new kid on the block. Adobe found itself competing for share of the comparatively small Mac user base. So it was hardly a surprise that the next version of Premiere, released in 2003 as Premiere Pro, turned out to be a Windows-only application.
Things have changed considerably in the ensuing five years. The Mac market is growing, in part because of Apple's decision to switch to Intel-based processors. And as Spiderman does battle with the Green Goblin's vengeful son in this summer's blockbuster movie, Premiere is about to return to the Mac in the form of Premiere Pro CS3.
What can you expect from the editing application once it arrives later this summer along with the rest of Adobe's Creative Suite 3 Production Premium collection? A publicly available beta offers a good overview.
What's changed
For our Windows-based counterparts, Premiere Pro CS3 introduces a handful of notable improvements to the editing app. But for Mac users, this upcoming release is essentially an entirely new program compared to Premiere 6.5.
Premiere Pro differs most noticeably from its last Mac incarnation in its appearance. Like the rest of the newly released CS3 family, Premiere Pro has dispensed of windows and palettes in favor of tabbed panels docked into a system of interdependent panes that utilize screen space much more efficiently.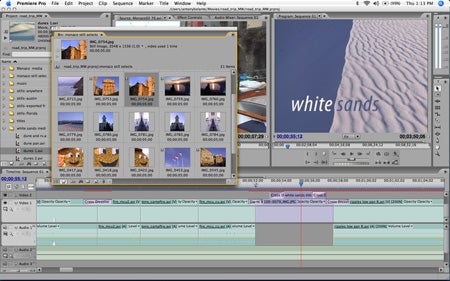 The forthcoming Premiere Pro CS3 will bear little resemblance to its last Mac incarnation, Premiere 6.5. Among the new features for both Mac and Windows is the ability to view clips in multiple bin panels.
Even beneath its superficial qualities, Premiere Pro bears little resemblance to its five-year-old Mac predecessor. Few vestiges of Premiere 6.5's A/B roll editing paradigm or its modular design remain. In Premiere 6.5, you could still view video in an A track and B track (harkening to an A roll and B roll in linear editing) with a transition track in between. Premiere Pro embraces the standard editing paradigm: clips and transitions depicted in a single video or audio track. (Of course, you can have additional tracks for superimposing video and mixing audio.) And whereas many of Premiere 6.5's features worked like a set of related-but-separate modules, Premiere Pro's features feel much more unified.
Premiere Pro still has all the editing features you remember and expect, but its timeline editing features are far more flexible than in the past. You can create multiple sequences in a single project, and even nest sequences. Premiere Pro also supports sample-based audio editing, and includes a multi-camera editing feature.
You apply and animate effects using procedures consistent not just within Premiere Pro, but also with After Effects (which gets its own CS3 makeover as part of the Production Premium suite). In fact, it's possible for a Premiere Pro project's effects to translate into After Effects (and vice-versa) seamlessly.
Other features
Premiere Pro's audio mixer convincingly emulates a hardware mixing console. On-the-fly audio mixes translate into keyframes you can edit in the timeline. With the proper sound card and speakers, you can mix 5.1 surround sound.
Premiere Pro's titler has all the typesetting tools a video editor typically needs to create static titles, rolls and crawls. (For character-based text animation, however, you'll want to turn to After Effects.)
In addition to the standard videotape- and file-export options, Premiere Pro lets you export to Adobe Encore for DVD and Blu-ray authoring. For exporting to other formats—particularly those with complex settings—the Adobe Media Encoder simplifies the process. An interesting feature called Clip Notes lets you embed video into a PDF that a client can use to make comments on a work-in-progress.
A Media Manager facilitates an offline-to-online editing workflow. You can also collect the files associated with a project and copy them for safekeeping or just good housekeeping.
As the CS3 appellation suggests, Premiere Pro is designed to work together with the other programs that make up Adobe's massive Creative Suite 3. Menu commands let you reopen a footage item in the program that created it; conversely, you can export a movie containing a link to its associated Premiere Pro project. Another command lets you launch Photoshop to create project-ready stills. And you can streamline your work between Premiere Pro and After Effects projects with a feature called Dynamic Link. The companion program Adobe Bridge helps manage assets for all the CS3 apps.
What to expect
With the substantial changes from the last Mac version, Premiere Pro CS3 is no mere sequel—it's a complete remake, and one that should generate some good buzz. Its chances of becoming a summer blockbuster, however, remain up in the air until the finished version arrives on retail shelves. We'll have a full review once the finished application ships.
[ Antony Bolante freelances in video post, training, and writing. He is the author of the Premiere Pro 2 Visual QuickPro Guide and After Effects 7 Visual QuickPro Guide (Peachpit Press, 2006). He is co-producing a documentary entitled, on the nOse .]