It's early as I type this—very early, given that we slipped into another time zone last night—and we're now headed up the channel towards Juneau, with a targeted arrival about five hours from now. Sometime during the night, the ship moved from the open ocean into the channel, and the difference is striking: there are no waves here, and the ride is now perfectly smooth. Looking out the windows up on the Lido Deck, it's like sitting on some strange, huge, magical carpet—we're moving forward, yet there are no engine sounds, and there's no sense of motion whatsoever. The only giveaway that we're actually moving is the small wake being generated by the bow of the ship.
The approach to Juneau is made up a wide valley, ringed by snow-capped mountains, as you can see below.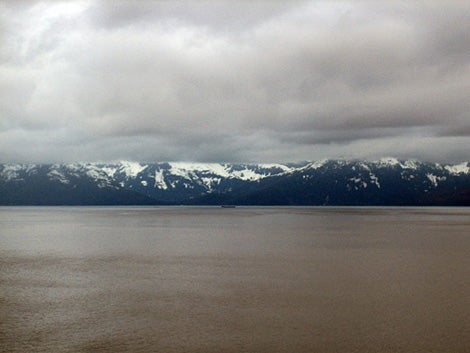 As you can see, there's a low cloud cover, and it's chilly outside—the high is only expected to reach the mid-40°F range today. It'll probably be a lot cooler later today, when we're up on the Mendenhall Glacier for our shore excursion. More on that trip this evening.
As for the classes, I mentioned my Tiger-versus-Leopard session in my last dispatch, and the problem I faced comparing OS X 10.4 to a version that won't be released until October. How to get around that problem? With hard-hitting slides like this: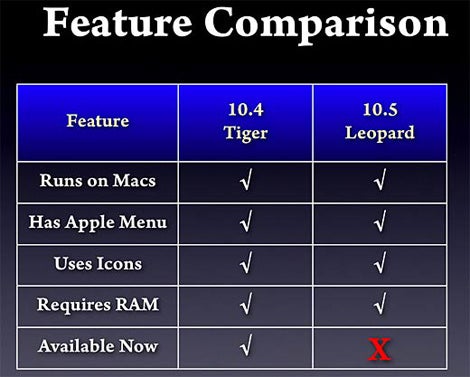 In all seriousness, I tried to be as informative as I could about Leopard, dwelling on the new features— Time Machine, Spaces —and enhancements to existing features— Spotlight, iChat, and others—that have already been publicly unveiled.