As expected, Palm on Wednesday introduced a new mobile computing device. It's radically different than the company's popular line of Treo smartphones, and it's called the Foleo. It's designed to work in conjunction with a Treo, but it offers users a large screen and full sized keyboard — it looks like a small laptop. Palm expects it to cost $499 (after a $100 rebate) when the Foleo is released this summer.
Palm CEO Jeff Hawkins claims that Foleo is the beginning of a new line of companion products aimed at smartphones — not only Palm Treos, but smartphones made by other companies as well. Hawkins unveiled the new device at the D: All Things Digital event in Carlsbad, Calif.
Prior to the unveiling, Palm indicated it would announce a new product, but gave neither the industry press nor analysts an advance look at what it planned to introduce.
The Foleo isn't a computer unto itself — it's designed as a complementary product for the Treo, providing users with a 10-inch widescreen display and full-sized keyboard with built in scrolling tool, connecting wirelessly to the Treo using Bluetooth. Any changes you make using the Foleo are instantly displayed on the phone.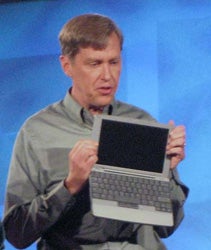 Palm CEO Jeff Hawkins shows off the Foleo mobile computing device at the D: All Things Digital conference Wednesday.
"Sometimes you just need to look at the big screen," Hawkins told attendees at the D: All Things Digital conference. "You need access to the data on your smartphone on a big display."
Using the Foleo, you can respond to e-mails, view attachments, look at Web pages and photos. You can edit and create Microsoft Word and Excel-compatible documents, view PDF files and display PowerPoint presentations, as well. Foleo can also drive an external display or projector using a VGA adapter.
You can surf Wi-Fi hotspots wirelessly using the Foleo's built-in Wi-Fi capability. Outside of Wi-Fi range, you can alternately or connect over your cell phone provider's data network by using a Bluetooth connection to the phone.
Hawkins said that he originally conceived the Foleo five years ago, but that at the time his company—then Handspring, which was bought by Palm in 2003—was focused on too many other areas. "This only really made sense when smartphones took off a couple years ago,"he said.
In the future, Hawkins said, more than a billion people will use a smartphone, and for them, it "is going to be their primary computer. If you are a heavy user of a smartphone, Foleo can make life a lot better.
"I believe this is the smallest computer with a full-size keyboard ever made," Hawkins added.
Jason Snell contributed to this report.
Editor's Note: This article was updated at 11:50 a.m. PT on May 30, 2007, to add comments from Palm's Jeff Hawkins.