We're all back on board the ship now after spending the day exploring Juneau and the surrounding area. For those who don't know, Juneau is unique among American mainland capital cities: you can only reach it via airplane or boat. That's right, there are no roads that lead to Juneau.
Despite that, there are plenty of cars here for the 31,000 year-round residents, along with a Home Depot, Wal-Mart (opening soon!), and a McDonald's. Keep in mind that everything these stores sell must arrive in the same manner—either via the air or the water. According to our tour guide, when the McDonald's opened in the late 1980s, it set a franchise record for opening day hamburger sales, and the drive-through line was two miles long.
Juneau sits right up against two mountains—Mt. Juneau (3,576 feet) and Mt. Roberts (3,819 feet). Neither is particularly tall by Rocky Mountain standards, but as they both start at sea level directly behind Juneau, they are visually impressive. The shot below shows Juneau nestled up against the foot of Mt. Juneau.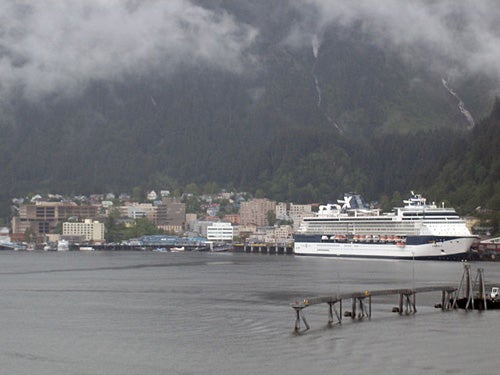 After docking, one of the first things you notice is the tram—a sightseer's dream, the tram lifts visitors up to the 1,800 foot level on Mt. Roberts, from where one would probably have a wonderful view of the valley. I say "probably" because of one of my hard and fast rules: unless I'm wearing ski boots and carrying a set of skis, I simply do not get in trams, gondolas, ski lifts, or any other such conveyance. At a ski area, I have no qualms about such things, strangely enough. Outside that environment, though, I have no desire at all to go for a ride! Here's a shot of the tram and its destination.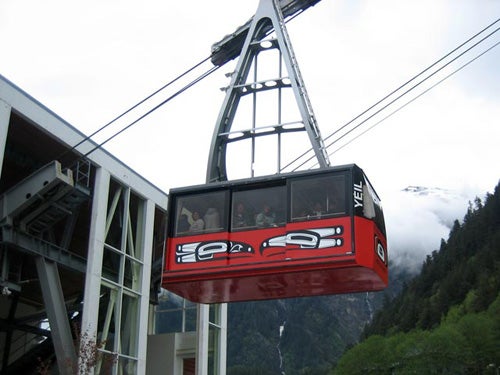 My wife and I had separate shore excursions planned for today. I spent a relatively tame day with my mother, step-father, and daughter, visiting the Mendenhall Glacier visitor's center and viewing area, and dining at an outdoor salmon bake. My wife, on the other hand, headed out in a helicopter, landed well up on the Mendenhall Glacier, then had a try at guiding a team of sled dogs around on the ice and snow. Needless to say, some of her pictures were much more interesting than mine. Unfortunately, due to the slow upload speed, sharing her movies will have to wait. I did, however, grab a few still frames from her video clips.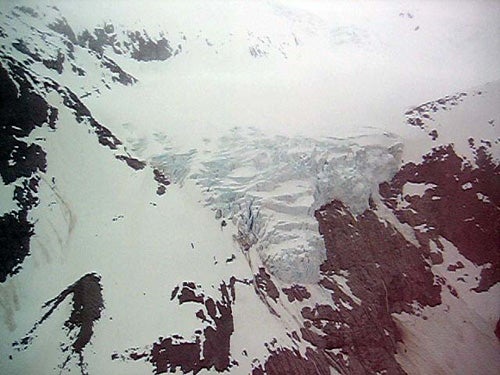 I thought the port of Seattle was busy when we left on Saturday. However, Seattle's got nothing on Juneau! Today there were four cruise ships in port (our guide told us that they will occasionally have as many as seven in one day), quite a few small pleasure craft, and lots and lots of float plane activity—in the afternoon, they were taking off right between our ship and another one docked in the middle of the bay. In between all of that, there was the constant whup-whup-whup of the passing helicopters, and the occasional low-flying jet, inbound to Juneau's airport. Due to the high nearby peaks and twists and turns in the valley, the jets wind up flying quite low and making a relatively sharp turn to align with the runway for landing. (You can get a sense for what's involved by looking at this page from Google Maps; the airport is at upper left, and the main part of the town is at the lower right.)
We've now departed Juneau for an overnight cruise to the Hubbard Glacier, where we'll spend the day watching and waiting for chunks of ice to fall off the 40-story-tall front end of the glacier (a process known as calving), which creates spectacular aural and visual effects (or so I've been told).