The D: All Things Digital conference is an event where the star power in the audience is comparable to the star power on the event stage. Sure, that's George Lucas up there on stage, but isn't that Martha Stewart? And there's Steve Ballmer of Microsoft, but the crowd listening to him includes former RIAA executive Hilary Rosen and "Men in Black" director Barry Sonnenfeld.
When George Lucas came on stage Wednesday evening, there was polite applause. Likewise for other speakers such as Senator John McCain, Cisco CEO John Chambers, and CBS President Leslie Moonves. Even Steve Jobs' early-afternoon session was not preceded by the kind of anticipation that one sees outside a Macworld Expo keynote address.
But the joint evening appearance of Steve Jobs and Bill Gates ? The feeling was electric, even for this high-tech, high-powered crowd. Even 15 minutes before showtime, the sheer anticipation in the audience was more like the vibe you'd get from a rock concert than from a sedate sit-down with two Wall Street Journal writers and two technology billionaires.
And the pair of billionaires did not disappoint. Well, to be fair, they probably disappointed anyone who expected this to be the sort of event where two men enter and one man leaves. This was not a no-holds-barred battle of wits. Instead, it was a fascinating opportunity to view two men who are very much in the public eye, perhaps destined to be inextricably linked to one another in the history books, interact with each other for the first time in a public setting in a decade.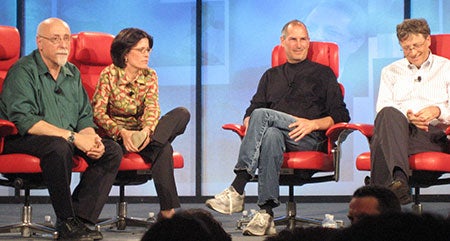 What struck me most about Jobs's and Gates's interaction with one another was the genuine warmth they both felt when nostalgically recalling the early days of the personal computer revolution, when Microsoft supplied a version of the BASIC programming language for the Apple II and then became one of the flagship application developers for the very first Mac. In an industry that has trouble remembering what happened last week, these men have 30 years of history — much of it good, believe it or not.
As Jobs eloquently put it: "When Bill and I first met each other and worked together in the early days, generally we were both the youngest guys in the room. And now, when we're working at our companies, I don't know about [Bill], but I'm the oldest guy in the room sometimes… there's that one line in that one Beatles, 'You and I have memories longer than the road that stretches out ahead.' And that clearly is true here."
It's easy to portray these two as bitter rivals, and their two companies certainly provide contrasting styles and approaches to technology that match the personalities of their founders. Jobs showed himself to be a very thoughtful, almost philosophical speaker at times. Likewise true to form, Gates exposed his unabashed geeky love of the nuts and bolts of the engineering behind the technology. But both seemed to recognize the strengths of the other.
For me, the most telling statement of the night was from Gates, when each man was asked about what he admired about the other. "I'd give a lot to have Steve's taste, his intuitive taste, both for people and products," said Gates. He told a story about one of those early meetings when the original Mac was being developed, in which Gates would approach problems from a technical perspective, as "an engineering guy." And in contrast, he'd see Steve Jobs make an intuitive decision, based on "his sense of people" and how they'd respond to using the technology. "And it was magical," Gates recalled. "Wow!"
Jobs, hearkening back to Apple's decision not to license the Mac OS to other hardware companies, which led to the rise of Microsoft Windows, said that he regretted that Apple had too much of a lone-wolf mentality in those days. "Because Woz and I started the company based on doing the whole banana, we weren't so good at partnering with people…. And if Apple had more of that in its DNA, it would've served us really well. And [Apple] didn't learn that until a couple decades later."
This is not to say that the night was entirely a love-fest, not on the same day where Jobs likened the Windows version of iTunes to "giving a glass of icewater to somebody in hell." (Video highlights of Jobs's solo appearance is embedded below, courtesy of the D conference. Warning: the video will probably be preceded by an ad. This is one of the many reasons why Rupert Murdoch wants to pay a big pile of money for the Wall Street Journal.)
Most notably the pair clashed about, of all things, Apple's successful series of television ads featuring the Mac Guy (Justin Long) and the PC Guy (John Hodgman). Gates was visibly uncomfortable during the entire discussion of the ads, not buying Jobs's suggestion that "The art of those commercials is not to be mean, but is actually for the guys to like each other." When both Jobs and co-moderator Kara Swisher expressed that they liked the PC guy, Gates shot back, "His mother loves him."
And when Jobs carted out his well-worn Alan Kay quote about people who make software desiring to design their own hardware, Gates let rip with another dry rejoinder: "I can resist that." But Gates did admit that, in certain areas, Apple's approach to unified hardware and software design was appropriate, which is why Microsoft has adopted it for products such as the Zune, Xbox, and the new Microsoft Surface table PC product.
However, the pair did find a lot of common ground, especially when defending the honor of the technology product that defines both of them: the personal computer. While excitedly discussing the future of tiny, "post-PC" devices, Jobs and Gates both said that the death of the PC is probably a long way off. Gates ticked off other devices that were going to kill the PC, like the network computer, and the single-function computer. Jobs said that "the PC will continue to be with us, and it'll morph with us." But Jobs also showed a greater enthusiasm for the possibilities in those new devices, such as the iPod and the iPhone.
They also both defended the evolution of the computer operating system, after co-moderator Walt Mossberg suggested that innovation in the computer interface has largely stalled since the introduction of the Mac in 1984. Jobs suggested that if you disappeared for 10 years and then returned, you'd notice the incremental improvements that have been happening on our desktops. Gates, completely in character, expressed enthusiasm for new technologies such as speech recognition and computer vision. But he also expressed excitement for the concept of a 3-D interface design where, for example, an online bookstore could have — wait for it — a 3-D representation of real books! Amazon take note — or don't.
As both men pointed out, one of the challenges of being the vendor of a computer operating system and software programs is that you've got a base of users who won't accept radical change. As Jobs put it, even if it's better to drive a car with six wheels and steer it via a joystick, people won't accept those changes. They like four-wheeled cars you drive with a steering wheel. So the changes in our desktops (3-D bookshelves aside) will be more incremental, while standalone devices like the iPhone and Microsoft Surface will have more radical concepts.
Ultimately, did this Gates-Jobs joint appearance live up to the electricity in the room beforehand? Even though it was a relatively gentle kind of evening, I'd have to say yes. To see these two icons of the computer industry, reacting to one another and playing off each other, in an informal setting free of PR handlers, was a chance to peek through their shells a little bit. And what we got was a good glimpse at two men who genuinely love technology and are driven by their enthusiasm in the work they have chosen. As Jobs himself said, "I sort of look at us as two of the luckiest guys on the planet."
(More coverage, including a highlight video of the Jobs-Gates session and full transcript, are available on the All Things D web site.)