After departing Juneau at 9 p.m.—well before the local sunset— we MacMania VI cruisers awoke the next day heading for the entrance to Yakutat Bay, the home of Hubbard Glacier. But before the requisite sight-seeing, I had a course to teach.
Well, actually, it was more like being on a game show with 10 hosts and just one contestant—it was a Q&A session, where attendees can ask the speakers any Mac-related question, and we do our best to answer. Typically there will be five or six speakers on stage, so there's a chance you don't have to personally answer every question. No such luck this time around, though, as circumstances meant that the sole question-taker was yours truly.
Overall, I think I handled every question (excluding a couple about the use of ODBC Administrator and Directory Access in the Utilities folder—two apps I've rarely launched), but I did get one stumper: "When using Safari to browse a site that has a login form, the first time you complete the form, a dialog appears offering three form-related options. You can tell Safari to never remember what you use for this site, to not make a decision now, or to save the user name and password. If I tell Safari 'never remember,' how do I then save the user name and password in the future if I change my mind?"
Safari is not my main browser, and I couldn't come up with the answer off the top of my head (nor could anyone else in the session). Afterwards, I did a bit of experimenting, and found the answer, which lives in Safari's Preferences, on the AutoFill tab. Click on Edit next to User Names and Passwords, and you'll see a list of all the sites for which Safari has memorized your login information. Look closely at the list, though, and you'll see that it also lists sites for which you've told Safari not to save your login information. Each of these sites will have Passwords Never Saved in the User Name column. To restore the options dialog the next time you load a given site, highlight the relevant entry in the AutoFill list and click Remove, then click Done. The next time you fill in the user name and password information for that site, you'll again see the prompt asking how you'd like Safari to remember (or not) the information.
With the morning session completed, I headed over to see Ken Smith of Glazer's Camera in Seattle. Glazer's Camera was offering free loaners on a wide variety of gear—everything from high-end digital SLRs to video cameras and consumer pocket still cameras—to any Geek Cruise attendee who was interested. I checked my pocketbook at the door, realized I'll probably never spend thousands of dollars on a high-end camera, and reserved an entry-level digital SLR, the Nikon D40X, along with an 85-200mm zoom lens.
After completing some paperwork, including a credit-card charge authorization in case I do something Rob-like and let the thing tumble overboard, I headed out to find a good spot to shoot some Hubbard Glacier images. I wanted to compare the Nikon to my pocket camera, a Canon PowerShot SD400, and I thought the Hubbard Glacier would be a good place to do so. It turns out that due to weather (flat gray overcast) and ice flows in the water that prevented us from getting really close (images from Titanic were constantly running through my mind), this wasn't actually a great place to do my testing. Instead, I'll take both cameras ashore in Sitka later this week, and find some nice landscape shots to use for testing. I plan on posting a follow-up with my perspective on how the two cameras compare in both image quality and usability. Depending on how things go, I may also have to figure out a way to get one of these (or something similar) on my birthday gift list. In my brief time with it so far, I've been impressed—the images that follow were taken with the D40X.
The Hubbard Glacier is immense. Really immense. It's hard to describe how big it is, but here's a shot of the majority of the front end of the glacier—there's another smaller section out of view to the right, but this is probably 75 percent of the face: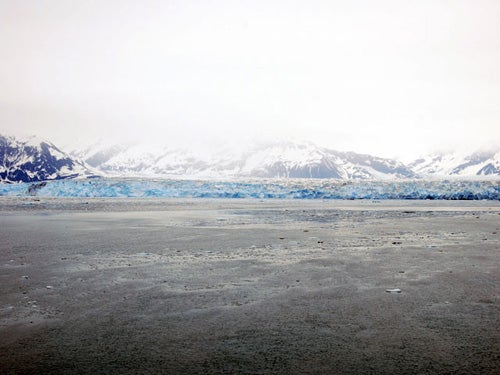 The picture doesn't really provide any sense of scale, but this photo should help in that regard. In the above photo, notice the darker-brown ice toward the left edge of the image. The following image is a zoom on that section of the glacier, with another cruise ship (similar in size to our own) visible in front of the glacier:
It's large. Gargantuan. Beyond comprehension. Even more so when you consider that this glacier continues back into the mountains for 76 miles ! Here's a close-up of one section of the glacier, where you can see how the front edge begins to break apart as it reaches the sea water. And yes, it really did look this blue—apparently you only get that effect when it's cloudy out: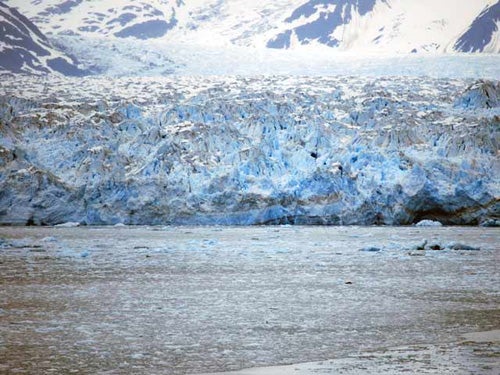 Every so often, a large chunk of ice will break off and fall into the bay (they call it "calving"), causing spectacular sounds ("glacier thunder") and visual effects. Unfortunately, we didn't see any such events today, so we were left to study leftover pieces of previous incidents:
I particularly like the second one, which looked like some sort of ephemeral animal head floating past our cabin. And yes, the captain did make a PA announcement, reassuring everyone that our hull was reinforced to withstand the occasional ice strike. And yes, this did absolutely nothing to remove the images of Titanic from my mind! But in all seriousness, the glacier was stunning, and on a cruise later in the season, you would probably be able to approach more closely, making it even more awe inspiring. (Or is that "ahhhhhh" inspiring?)
We're now en route to Sitka, Alaska, where tomorrow morning I'll do the unthinkable and go snorkeling in these icy-cold waters (current ocean temperature: 47°F). But I'm not a complete fool—I'll be donning a dry suit, which should keep me dry, and relatively warm, throughout. I'll be taking my underwater camera, and if there's anything worth seeing, I'll share the images in Friday's dispatch.